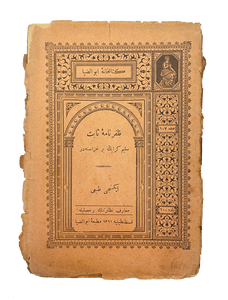 [THE BOOK OF CRIMEAN KHAN IN AUSTRIAN EXPEDITION] Zafernâme-i Sabit: Selim Giray'in bir gazâsinadir. [i.e. The book of victory of Selim Giray the Crimean Khan]
$25000

$250.00
Tax included.
Shipping
calculated at checkout.
---
---
BOSNIAC ALAEDDIN SABIT (1650-1712), Matbaa-yi Ebüzziya, Istanbul, [AH 1299] = 1882.
Original wrappers. Slight foxing on covers, and chippings extremities; otherwise, a good copy. 16mo. (16 x 10 cm). In Ottoman script (Old Turkish with Arabic letters). 46 p.
Scarce first printed edition of "The Book of Selim" or "The Book of Gazha", comprising 426 couplets in the Mathnawi style praising the Crimean Khan Selim Giray (1631-1704), who was called to the Austrian Expedition by the Ottoman Empire during the reign of Sultan Suleiman II. Although it is said that the work, which is also known as "Gazânâme" and "Selimnâme", is related to Kachanik or Hungarian Expedition according to some sources but tells the story of the Prekop victory won by Selim Giray in 1689 Krymskiye Pokhody [i.e., The Crimean Campaigns] against the Russian army (TDVIA).
The book was published by Ebüzziya Mehmed Tevfik (1849-1912) in 1882 [AH 1299] who was a famous Ottoman intellectual and publisher. Second edition 1911.
Selim I Giray or Selim Khan Girai ruled for four terms as the khan of the Crimean Khanate in the period from 1671 to 1704. During this period, Crimean khans were regularly appointed and replaced by the Ottomans. The main events of the period were the continuing conflicts in Ukraine, the Russian capture of Azov, and the Great Turkish War during which the Turks were pushed back from Vienna to the line around Belgrade.
Özege 23601.