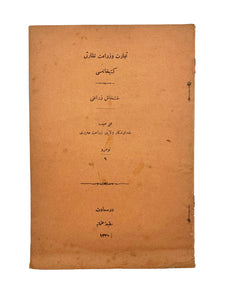 [BOTANY / SECOND REPORT OF THE OPIUM & POPPY IN THE OTTOMAN EMPIRE] Hashas zirâati (Ticâret ve Zirâat Nezâreti Kütübhânesi No. 9)
$60000

$600.00
Tax included.
Shipping
calculated at checkout.
---
---
ALI HAYDAR, (19th-20th century), Matbaa-i Osmaniye, Istanbul, [AH 1330] = 1914.
Original wrappers. Roy. 8vo. (24 x 16 cm). In Ottoman script (Old Turkish with Arabic letters). 14 p.

Exceedingly rare first edition of this second official report of the cultivation of opium seed and poppy in the Ottoman Empire, written by Ali Haydar who was the Turkish director of agriculture of Hüdavendigâr (Bursa) Province of the last period of the Ottoman Empire. This report was written following the policy of the Ottoman Empire to expand opium and poppy cultivation by the state in the year World War I began.

Özege 7006.; TBTK 3227, 3284.; Not in OCLC.