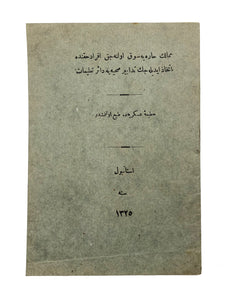 [MEDICAL MEASURES OF OTTOMAN ARMY IN ARAB COUNTRIES] Memâlîk-i Harreye sevk edilecek efrâd hakkinda ittihaz edilecek tedâbîr-i sihhiyeye dair talimât. [i.e. Instruction on medical measures to be taken for soldiers to be sent to the desert in Tripoli War]
$42500

$425.00
Tax included.
Shipping
calculated at checkout.
---
---
[N. A.], Askerî Matbaa, Istanbul (Constantinople), [AH 1325] = 1909.
Original wrappers. Foolscap 8vo. (17 x 12 cm). In Ottoman script (Old Turkish with Arabic letters). 6 p.

First and only edition of this first booklet including fourteen articles on medical measures to dispatch soldiers to the hot regions of Ottoman geography before the Tripoli War in 1910, especially to Palestine, Iraq, Mesopotamia, and Arab countries.

Before the Tripoli War, the dispatch of soldiers to the hot regions of the Ottoman geography, to the Arab countries, and to the deserts faced some medical problems. The Ottoman army took some measures to overcome the difficulties encountered due to epidemics and insufficient medical equipment. The fourteen articles in the booklet specify the materials and conditions required to ensure the hygienic and comfortable travel of the soldiers who will be dispatched to the hot regions by ferry and other means.

After one year published this military instruction booklet, the Ottoman army would fight not more than 2000 soldiers to be sent to the desert in the 1910 Tripoli War against the 35000 soldiers of the Italian army. When the First World War began, all lands such as Palestine, the Sinai Peninsula, North Africa, Arabia, and Yemen would be lost.

Özege 12990.; We can't trace any copy in OCLC.