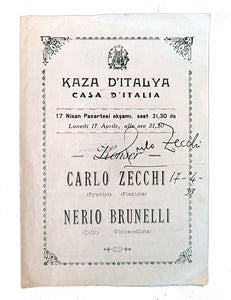 [ZECCHI IN ISTANBUL] Autograph concert program signed 'Carlo Zecchi', on a rare printed program of a concert performed in Pera in 1933.
$17500

$175.00
Tax included.
Shipping
calculated at checkout.
---
---
CARLO ZECCHI, (Italian conductor, pianist, music teacher), (1903-1984).
Kaza D'Italya = Casa D'Italia., [c. 1933], Pera, Istanbul.
Original autograph concert program signed by Carlo Zecchi as 'Carlo Zecchi, 17-4-33'. 21x14,5 cm. Bilingual in Italian and Turkish. 3, [1] p., signature on cover. Program of Zecchi (as a pianist) and Nerio Brunelli (as a violoncellist) which was performed in Constantinople (Istanbul), Beyoglu in 1933 (Lunedi17 Aprile, alle ore 21,30). The program has a decorative cover with its decorative borders and has a couple of postal stamps on its second page (One is Ottoman, one is the Republican Turkey stamp). According to the program, Zecchi and Brunelli performed Mozart, Scarlatti, Beethoven, Varacini, Boccherini, Respighi, Casella, Chopin, Dunkler Brunelli, and R. Strauss. Carlo Zecchi was an Italian pianist, music teacher, and conductor. Zecchi was born in Rome. In Berlin, he studied piano with Ferruccio Busoni and Artur Schnabel. He led pianistic courses in Accademia Nazionale di Santa Cecilia, Rome, and in Salzburg. He was a highly acclaimed performer of the works of Domenico Scarlatti, Wolfgang Amadeus Mozart, Claude Debussy, and other Romantic music. Carlo Zecchi made his Italian debut in 1920, first performed abroad in 1922, and made his first tour of the USA in 1931. In 1939 he had a car accident, which obliged him to abandon work as a soloist, although he continued playing the most demanding chamber music and conducting. He played as only as of the duo partner of the cellist Enrico Mainardi. He toured America with the Florence May Festival Orchestra in 1957 and was the permanent conductor of the Vienna Chamber Orchestra from 1964 to 1976. In his last years, two fingers on his left hand were paralyzed, yet he performed Schubert's Trout Quintet. He also taught, mostly at the S. Cecilia Academy in Rome and the Salzburg Mozarteum. Luckily several hours of Carlo Zecchi's playing were recorded, and he also made several recordings shortly before his death. His Robert Schumann, Franz Liszt, and pieces from the Baroque era, such as Antonio Vivaldi-J.S. Bach Concerto, Scarlatti, and Galilei remain unparalleled. While Arturo Benedetti Michelangeli was better known and often recorded, Zecchi represents the height of pianism to emerge from Italy. (Source: Bach Cantatas).