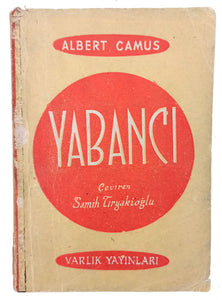 Yabanci. [= L'etranger]. Translated by Samih Tiryakioglu, (1909-1995).
$4000

$40.00
Tax included.
Shipping
calculated at checkout.
---
---
ALBERT CAMUS, (1913-1960).
Varlik Yayinlari, Ist., 1958.
Paperback. 12mo. (17 x 12 cm). In Turkish. 79 p. Second Turkish Edition ever, first Tiryakioglu translation. L'etranger is a 1942 novel by French Nobel laureate author Albert Camus. Its theme and outlook are often cited as examples of Camus's philosophy, absurdism coupled with that of existentialism, though Camus personally rejected the latter label. Samih Tiryakioglu, (1909-1995), Turkish journalist and very prolific translator. 
French / Turkish literature Second Turkish Edition of 'L'Etranger' by Albert Camus