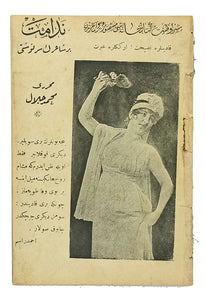 [WOMEN THROUGH THE EYES OF AN OTTOMAN POET] Nedâmet: Bir sairin sernüvisti. Kadinlara nasihât, erkeklere ibret! [i.e. Regret: The destiny of a poet. Advice to women, a lesson to men!]
$32500

$325.00
Tax included.
Shipping
calculated at checkout.
---
---
MEHMED CELÂL, (1863-1912)., Mesrutiyet Matbaasi., Istanbul, [No date: c. 1902].
Original pictorial wrappers. Foolscap 8vo. (18 x 12 cm). In Ottoman script (Old Turkish with Arabic letters. 82 p.
First edition of this original Ottoman novella written by Mehmed Celâl (1863-1912) in the early 20th century, consisting of six chapters and reflecting the ironic complaints of a poet husband about his wife, who is living in an unhappy marriage as the main subject of the book.
On the cover image, there is a wit of a woman holding a flower in her hand reflecting the analogy between a woman and a flower made by the Turkish poet Ahmed Rasim (1864-1932).
Mehmed Celâl is one of the well-known writers and poets of the last Ottoman period. He is known for his emotional and dreamy poems and stories.
Özege 15307.; OCLC 45120692, 634949114, 67122665, 1030750506.