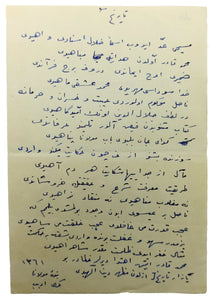 Unpublished autograph poem signed 'Bende-i Mevlânâ Kemal Edib'.
$22500

$225.00
Tax included.
Shipping
calculated at checkout.
---
---
KEMAL EDIB [KÜRKÇÜOGLU], (Turkish poet), (1902-1977)
Manuscript Poem On Paper., Ist., [AH 1361] = 1944.
Original manuscript unpublished autograph poem signed by Kemal Edib. 20x14 cm. In Ottoman script. 18 verses. This unpublished poem by Kemal Edib is titled 'Su-yi tarih'. Dated only 1361 AH. Signed as 'Bende-i Mevlânâ Kemal Edib' [i.e. Slave to Mawlana Kemal Edib]. Mevlana is a title given to people who are seen as leaders in the religion of Islam or who are successful in Islamic sciences. Although it is frequently used by Islamic scholars and religious leaders especially in the Indian Subcontinent, it is not used much in West Asia. It is often used in Turkish and Persian literature to refer to Jalaluddin Rûmî and is therefore mistakenly understood as part of that person's name or as his own specific nickname or title. Derived from the word Mawla, this word means "our master". Although the Swahili language in Africa, like other languages, derives the word from its origin in Arabic, it uses it in a much more general sense: the word is generally given to people respected by their community and does not have to bear religious emphasis, it can be used in a secular context. In this signature, the poet might this title to refer to Rumi. Kemal Edip Kürkçüoglu, (1902-1977), who had taught history, literature, and Islamic mysticism in high schools and faculties and done administrative services, was a poet and scholar whose fifteen books about religion, history, and literature had been published. Only a few of his poems had been published until today. (Source: The Poem Of Kemal Edip Kürkçüoglu Eulogizing Jalâl Al-Dîn Al-Rûmî, by Emine Terzioglu).