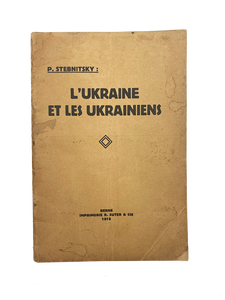 [UKRAINE] L'Ukraine et les Ukrainiens [i.e., Ukraine and the Ukrainians]
$12500

$125.00
Tax included.
Shipping
calculated at checkout.
---
---
P[ETRO] STEBNITSKY (1862-1923), Imprimerie R. Suter & Cie, Berne, 1918.
Original wrappers. Cr. 8vo. (20,5 x 14 cm). In French. 52 p. Slight chippings on the extremities of the corners, and foxing on the covers; overall, a good copy.
First French edition of this important work "Ukraina i Ukraintsy" reflecting the anti-colonial character of Ukraine, written by a Ukrainian journalist. Stebnitsky's works are an important part of Ukrainian journalism at the beginning of the twentieth century and the period of the Ukrainian Revolution in 1917-1921 (Inna).
After the February Revolution of 1917, Stebnitsky became head of the Ukrainian National Council in Petrograd, a member of the Central Committee of the Ukrainian Party of Socialists-Federalists, and state secretary for Ukrainian affairs in the Russian Provisional Government from July to November 1917. In the spring of 1918, he moved to Kyiv, where he joined a political commission in the Hetman government and later served as deputy leader of the Ukrainian delegation during negotiations with Soviet Russia (August 1918), senator in the administrative division of the State Senate, and minister of education in the cabinet of Fedir Lyzohub (19 October to 14 November 1918) as a representative of the Ukrainian National Union. While in Kyiv in 1918-20, he contributed to Nova Rada (Kyiv), Literaturno-naukovyi vistnyk, Knyhar, and Nashe mynule. He also headed the revived Kyiv Prosvita society, served as the chief editor of the Chas publishing house, and sat on the Committee of the National Library of Ukraine (whose Ucrainica section he headed). In 1919 he became director of a commission for the compilation of a biographical dictionary of prominent figures in Ukraine and a member of a commission for preparing a Ukrainian encyclopedic dictionary at the All-Ukrainian Academy of Sciences. (Source: Internet Encyclopaedia of Ukraine).
As of 2023 September, OCLC locates numbered copies in the US institutes: Harvard Library, Yale University Library, NYPL, LoC, University of Wisconsin, University of Alberta Library, Indiana University, University of Illinois at Urbana Champaign, KU Library, Stanford University, UCLA.