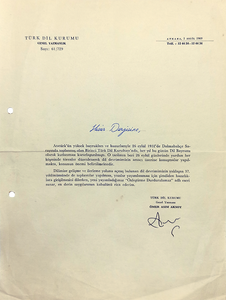 Typescript letter signed 'Ö. Asim', sent to "Hisar" literary periodical.
$7500

$75.00
Tax included.
Shipping
calculated at checkout.
---
---
ÖMER ASIM AKSOY, (Turkish philologist, pedagog, politician), 1898-1993).
"TDK: Türk Dil Kurumu" Letterhead, Ank., 1969.
Original typewritten letter signed (TLS) by Ömer Asim Aksoy sent to 'Hisar' periodicals. 30,5x22,5 cm. Dated September, 1, 1969 from Ankara. 'Türk Dil Kurumu' [i.e. Turkish Language Society] letterhead. 1 p. It includes ten lines. Signed as 'Genel yazman' [i.e. General manager]. He says that he's happy to present his book titled 'Özlestirme durdurulamaz' [i.e. Purification of Turkish language cannot be stopped] and about 'Language Celebration Day' on September 26.