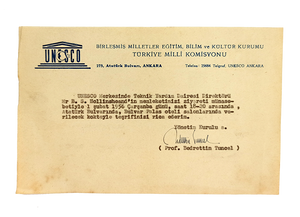 Typescript document signed 'Bedrettin Tuncel'.
$5500

$55.00
Tax included.
Shipping
calculated at checkout.
---
---
BEDRETTIN TUNCEL, (Turkish translator, former academic, and a politician in Turkey), (1910-1980).
UNESCO Letterhead, Ank., 1956.
Original typescript invitation signed by Bedrettin Tuncel. 13,5x21,5 cm. In Turkish. Six lines. 1 p. A formal invitation for the general director B. S. Hollinshead's visit to Turkey with the letterhead of "UNESCO Turkey Commission of the United Nations Science and Culture Foundation in Ankara". Bedrettin Tuncel was a former academic and a politician in Turkey. Born in 1910 in Tirebolu of Giresun Province, he graduated from Galatasaray High School in 1932. For higher education, he went to France to study French literature. He graduated from the Lumière University Lyon 2 in 1936. In Turkey, he served at Ankara University for 35 years. He also lectured on the history of Art in the conservatory of Ankara for 10 years. After 27 July 1963, he served as the speaker of the Turkish National Committee of UNESCO. After the 1960 Turkish coup d'etat in addition to his academic works, he was also appointed as the representative of universities in the Constituent Assembly of Turkey. In the 24th government of Turkey, he served as the Minister of National Education. But during the democratic regime after 1961, he returned to his academic life.
Signed by the author.