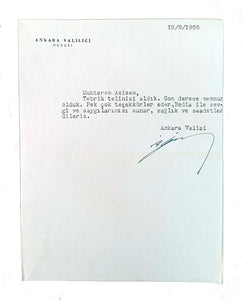 Typescript document signed 'Ankara Valisi C. Göktan'.
$4500

$45.00
Tax included.
Shipping
calculated at checkout.
---
---
CEMAL GÖKTAN, (Turkish bureaucrat, the governor of Ankara between 1955-1957), (1906-1970).
TLS - Letterhead 'Ankara Valiligi Hususi' [i.e. Governorship of Ankara], Ank, 1955.
Original TLS by Cemal Göktan. 19x15 cm. In Turkish. 1 p. 6 lines. "muhterem azizem, Tebrik telinizi aldik. Son derece memnun olduk. Pek çok tesekkürler eeder, Bedia ile sevgi ve saygilarimizi sunar, saglik ve saadetler dileriz, Ankara Valisi.". Dated 18/9/1955. It is the response of the Göktan appointed to the governorship right after Kemal Aygün, (duty: 1952-1955), in return for congratulations. 
Autograph letter signed Turkish governors