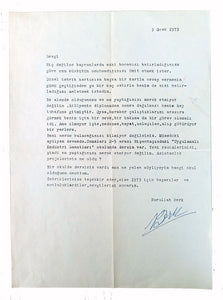 Typed letter signed 'Berk'.
$22500

$225.00
Tax included.
Shipping
calculated at checkout.
---
---
NURULLAH BERK, (Turkish painter who is pioneer of 'Group D'), (1906-1982).
Original Typescript Document with Autograph Signature, January 3, 1973, Ist.
Typescript letter (document) signed (TLS) by Nurullah Berk. 29x21 cm. In Turkish. 1 p. Full. A letter of reply to his female student from the fine art faculty. 22 lines. Nurullah Berk is a Turkish painter. He's one of the first representatives of the geometric-figurative produced in Turkey (constructivism). There are also cubism influences in his works. He was born on March 22, 1906, in Istanbul. After finishing Galatasaray High School, he became a student of Ibrahim Çalli and Hikmet Onat in Sanayi-i Nefise Mektebi. e went to France in 1924 and worked with Ernest Laurent at the Paris College of Fine Arts. After completing his education in 1928, he returned to Turkey, and with a group of friends, they founded "Independent Painters and Sculptors Association".  With Abidin Dino, Elif Naci, Zeki Faik Izer, and other artists, they founded the 'D Group' of Turkey. With the suggestion of Berk, this group got the name "Group D". 
Art History of the arts Painting Sculpture Letter Autograph Collection