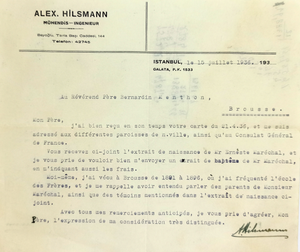 Typed letter signed 'A. Hilsmann'; sent to Bernardin Menthon who was a French reverend in Brousse, and author of 'L'Olympe de Bithynie: Ses saints, ses couvents, ses site'.
$4500

$45.00
Tax included.
Shipping
calculated at checkout.
---
---
ALEX. HILSMANN to BERNARDIN MENTHON, (French clergyman, reverend in Bursa city and the author of 'L'Olympe de Bithynie: Ses saints, ses couvents, ses sites').
Original Manuscript ALS., Ist., [AH 1329] = 1913 AD.
Original typescript letter signed by Alex. Hilsmann. 19x22,5 ccm .In French. 1 p. 15 lines. Full. Lettterhead 'Alex. Hilsmann, Mühendis - Ingenieur, Beyoglu, Tarla Basi Caddesi, 144'. "Aero Bank Paper" watermarked paper. Dated Istanbul, le 15 juillet 1936, Galata, P.K. 1533. Text: "Au Reverend Pere Bernardin Menthon, Mon pere, j'ai bien reçu en son temps votre carte du 21.4.36, et me suis adresse aux differentes paroisses de n.ville, ainsi qu'au Consulat General de France. Vous recevez ci-joint l'extrait de naissance de Mr. Ernestre Marechal, en m'indquantaussi les frais. Moi-meme, j'ai vecu a Brousse de 1891 a 1896, ou j'ai frequente l'ecole des Freres, et je me rappelle avoir entendu parler des parents de Monsieur Marechal, ainsi que des temoins mentionnes dans l'extrait de naissance ci-joint. Avec tours mes remerciements anticipes, je vous prie d'agreer, Mon Pere, l'expression de ma consideration tres distinguee.". Translation "To Reverend Pere Bernardin Menthon, Mon pere, I received your card of 21.4.36 in due course, and addressed myself to the various parishes of n.ville, as well as to the Consulate General of France. You will receive enclosed the birth certificate of Mr. Ernestre Marechal, also informing me of the costs. Myself, I lived in Brousse from 1891 to 1896, where I attended the school of the Brothers, and I remember having heard of the parents of Mr. Marechal, as well as witnesses mentioned in the birth certificate attached. With my thanks in advance, please accept, Father, the expression of my most distinguished consideration.".