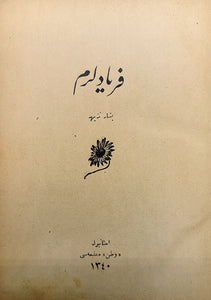 [TURKISH FEMALE POET OF THE FIRST TURKISH POEM FOR "MAY 1"] Feryadlarim [i.e. My screechs]. Biographical introduction by Rifat Necdet [Evrimer]
$42500

$425.00
Tax included.
Shipping
calculated at checkout.
---
---
YASAR NEZIHE [BÜKÜLMEZ], (1882-1971)., Kitaabhane-i Sudi/ Vatan Matbaasi., [H.: 1340], Ist., AD 1924.
Contemporary green cloth bdg. Slight scratches on faded cloth, with slight foxing on pages. Overall a good copy. Cr. 8vo. (20 x 14 cm). In Ottoman script (Old Turkish with Arabic letters). 238, [2] p., 1 b/w portrait of Nezihe, ills.

First and only edition of this exceedingly rare first book including a "May 1" poem, written by a Turkish female poet Yazar Nezihe.

Nezihe was considered one of the female poets in the Ottoman Period. She is known as a writer of the first Turkish poem for International Workers' Day on May 1. Yasar Nezihe differed from other female poets of the period in the sense of her life story and a contrary literary identity. Throughout her lifetime, she wrote poems about her penurious and challenging childhood as well as her love life and marriages. Being known as the first female poet whose works were published in Aydinlik Dergisi (i.e. Enlightenment Journal), Yasar Nezihe also became prominent for supporting labor unrests and her activist identity. She was recognized as a socialist poet who gave voice to poverty in her poems. She wrote the poem named "Gazete Sahiplerine" (i.e. To Newspaper Owners) addressing the executives with the intent of supporting laborers who were on strike because of the disagreement between newspaper owners and Mürettipler Cemiyeti (i.e. Typesetters Society). (Source: Wikipedia).

This is her second poetry book. Being the first female poet wrote in Aydinlik Dergisi, Yasar Nezihe Bükülmez was accused of being a communist because of her writings, her membership of Osmanli Amele Cemiyeti [The Ottoman Workers' Society], and support for labor unrests and was arrested. Book has a biographical introductory text by Rifat Necdet Evrimer, (1898-1971) who was a Turkish/Ottoman poet, educator, and biographer in which is important being the earliest male gaze in its period.

Özege 5645.; TBTK 6996.; Five copies in OCLC: 25346925 (Four copies) and 1030875484 (One copy).
Turkish literature Left Leftist movements Feminism Women