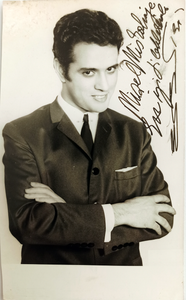 [TURKISH ELVIS] Original photograph signed and inscribed 'E. B.'
$8000

$80.00
Tax included.
Shipping
calculated at checkout.
---
---
EROL BÜYÜKBURÇ, (Turkish singer-songwriter, pop music composer, and actor), (1936-2015).
[Istanbul], [ca. 1960s].
Original b/w portrait photograph signed and inscribed by Erol Büyükburç as 'Misel Mis Rohaje, En iyi dileklerimle'. Büyükburç was a Turkish singer-songwriter, pop music composer, and actor. While studying in university, he entered Istanbul Municipal Conservatory. Later, he began singing in various jazz bands. During his compulsory military service in Urfa, he served in the officers' club as a singer. Upon returning to Istanbul, he was introduced to music producers by Leyla Sayar a well-known actress whom he met in Urfa. In 1961, he composed his best-known hit Little Lucy. He also wrote the lyrics of this melody. Before the 1960s, Turkish pop music was mostly covers of West European melodies. There were a few compositions in Turkish also. Little Lucy is considered as one of the milestones in Turkish popular music. Not only because it was one of the earliest popular music compositions, which the music enthusiasts warmly greeted, but also it was sung in English, quite unlike the earlier examples. Kiss me, Lovers Wish and Memories were also his English-lyrics compositions. In the Balkan Music Festival held on 2 September 1964, he won the Best Singer title. The next year, he won the Bosphorus Music Festival Award. After the 1980s, he began singing in various genres including children's songs and football teams' songs.