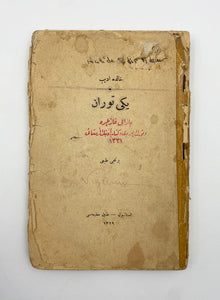 [TURANISM IDEAL BY FEMALE TURKISH AUTHOR] Yeni Turan. [i.e. The new Turan]
$32500

$325.00
Tax included.
Shipping
calculated at checkout.
---
---
HALIDE EDIB ADIVAR, (1884-1964), Tanin Matbaasi, Istanbul, [AH 1329] = 1913.
Original wrappers. Foxing on the cover, stains on some pages, chipping on extremities. Wear on the spine, creasing on covers. Overall a fair/good copy. Foolscap 8vo. (18 x 12 cm). In Ottoman script (Old Turkish with Arabic letters). [1], 188 p.

Exceedingly rare first edition of this utopian novel reflects the nationalist atmosphere of the period and mostly reflects the problem of how women will serve Turkish nationalism as an ideology and realizes this through the protagonist of the novel named Kaya.

Halide Edib [or Edio] Adivar was a Turkish novelist, teacher, ultranationalist and feminist intellectual. She was best known for her novels criticizing the low social status of Turkish women and what she saw from her observation as the lack of interest of most women in changing their situation. She was a Pan-Turkist and several of her novels advocated for the Turanism movement.

The term "Turan" is of Iranian origin and is believed to refer to a prehistorical human society in Central Asia. Turanism, also known as pan-Turanianism, pan-Turanism, or simply Turan, is a pseudoscientific pan-nationalist cultural and political movement proclaiming the need for close cooperation, or political unification between people who are claimed by its supporters to be culturally, linguistically, or ethnically related and to have Inner and Central Asian origin, such as the Turks, Mongols, Tungus, Hungarians, Finns, Estonians, and other smaller ethnic groups, as a means of collaborating towards shared interests and opposing the cultural and political influences of the powers of Europe and East Asia. It was born in the 19th century to counter the effects of pan-nationalist ideologies such as pan-Germanism and built upon the ideas of pan-Slavism (e.g. the idea of a "Turanian brotherhood and collaboration" was borrowed from the pan-Slavic concept of "Slavic brotherhood and collaboration").

Özege 23283.; TBTK 9514.; OCLC 30967237, 837373403, 754970926.