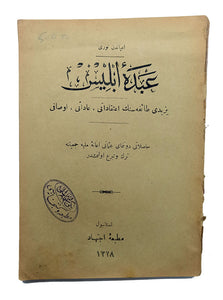 [THE SONS OF THE DEVIL: FIRST SEPARATE BOOK ON YEZIDIS] Abede-i Iblis: Yezîdî taifesinin itikâdâti, a'dâti, evsâfi. [i.e. The sons of Satan: Yezidi society's beliefs, customs and characteristics]
$1,25000

$1,250.00
Tax included.
Shipping
calculated at checkout.
---
---
AYÂNDAN MUSTAFA NURI PASHA, (Ottoman governor of Mosul between 1902-1905)., Matbaa-i Ictihad., Istanbul, [AH 1328] = 1912.
Paperback. 8vo. (18 x 12 cm). In Ottoman script (Old Turkish with Arabic letters). 80 p. Probably taken from a volume. Minor wear on spine. Light fading on pages. Otherwise a very good copy.

This interesting, very rare, and also pseudo-historical first book penned specifically on the Yezîdî people by an Ottoman statesman, initially prepared as a report and then published in 1912, before WWI in Ottoman Cairo.

One of only three written Eastern sources about this interesting community that has been subject to extremely controversial approaches throughout history. The first is the travel corpus of Evliya Çelebi, the second is 'Abede-i Iblis', and the third is "Al-Yazidiyya Kadîmen wa Hadisen", which was published in Arabic in Beirut in 1934. Yezîdîs, a member of a Kurdish religious minority found primarily in northern Iraq, southeastern Turkey, northern Syria, the Caucasus region and parts of Iran. The Yezîdî religion includes elements of ancient Iranian religions as well as elements of Judaism, Nestorian Christianity and Islam. Although scattered and probably numbering merely between 200,000 and 1,000,000, the Yezîdîs have a well-organized society, with a chief sheikh as the supreme religious head and an emir, or prince, as the secular head. The origins of the Yezîdî faith can be traced to areas of the Kurdish mountains of northern Iraq where pockets of devotion to the fallen Umayyad dynasty persisted long after the death of the last Umayyad caliph, the half-Kurdish Marwan II, in 750. Some descendants of the dynasty settled in the area, further encouraging the development of mystical traditions in which the Umayyad lineage was prominently figured. In the early 12th century, Sheikh 'Adî ibn Musâfir, a Sufi and a descendant of the Umayyads, settled in Lâlish, north of Mosul, and began a Sufi order known as the Adwiyyah. Although his own teachings were strictly orthodox, the beliefs of his followers soon blended with local traditions. A distinct Yezîdî community living in the environs of Mosul appears in historical sources as early as the middle of the 12th century. This book includes descriptions of the Yezîdîs , albeit all the prejudices within it, on their geography, origins, mythology, religions, cosmogony, etc. The book has a long chapter on Yezîdîs' chief divine Malak Ṭâûs [or, Tavus] ("Peacock Angel"). Malak Taus has often been identified by outsiders with the Judeo-Christian figure of Satan, causing the Yezîdîs to be inaccurately described as "Devil worshippers", as seen in this pseudo-historical book as well.

Özege 24.; OCLC 83228795.