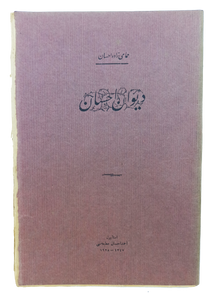 [THE LAST OTTOMAN BOOK PRINTED BEFORE THE ACCEPTANCE OF THE LATIN ALPHABET] Divân-i Ihsan
$42500

$425.00
Tax included.
Shipping
calculated at checkout.
---
---
HAMÂMÎZÂDE IHSAN BEY [MEHMED], (Turkish poet, journalist), (1885-1948).
Ahmed Ihsan Matbaasi., Istanbul, [1347 AH], 1928. 
Paperback. Almost mint condition. Untrimmed and unopened pages. Large roy. 8vo. (26 x 17 cm). In Ottoman script. [2], 112, [3] p., 1 portrait of Ihsan. The last page is in modern Turkish with Latin letters.
Hamamizade Ihsan Bey was a Turkish divan poet, journalist, educator, and folk culture researcher. According to historian Bardakçi, he is the last classic poet of the Ottoman Empire. This stylish poetry book includes six "na'at"s in nine chapters, one qasida, two muhammes, eleven tahmîs, one tesdîs, ten 'sarki', a hundred and forty-five gazals, fifty-six qit'a, one manzûme of history, twenty-nine rubai, one dastan and a chapter titled 'Sâdinâme' which is a humorous part. It is also the last work printed in old letters before the acceptance of the Latin alphabet according to the Encyclopedia of Islam.
Özege 4162.; TBTK 12361.; OCLC: 45663759. First Edition. Extremely rare.
Classical Turkish / Ottoman literature Divan poetry