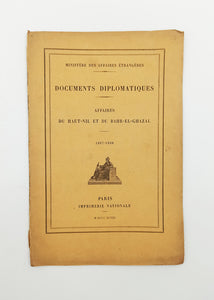 [THE FRENCH AND BRITISH CONFLICTS ON EGYPTIAN REGION] Affaires du Haut-Nil et du Bahr-el-Ghazal, 1897-1898 (Documents Diplomatiques) [i.e. Upper Nile and Bahr-el-Ghazal Affairs, 1897-1898 (Diplomatic Documents)]
$12500

$125.00
Tax included.
Shipping
calculated at checkout.
---
---
MINISTERE DES AFFAIRES ETRANGERES = FOREIGN MINISTRY OF FRANCE, Imprimerie Nationale, Paris, 1898.
Original wrappers. Folio. (32 x 21 cm). bilingual in English and French. [8], 26, [2] p.

First printed edition of these minutes by the Foreign Ministry of France in 1897-1898 on Bahr Al-Ghazal, Lake Chad, and the Upper Nile regions.

The tensions between French and British relations were high in the 1875-1898 era. especially over Egyptian and African issues. At several points, these issues brought the two nations to the brink of war; but the situation was always defused diplomatically. For two decades, there was peace-but it was "an armed peace, characterized by alarms, distrust, rancor, and irritation." During the Scramble for Africa in the 1880s, the British and French generally recognized each other's spheres of influence. In an agreement in 1890, Great Britain was recognized in Bahr-el-Ghazal and Darfur, while Wadai, Bagirmi, Kanem, and the territory to the north and east of Lake Chad were assigned to France. The Suez Canal, initially built by the French, became a joint British-French project in 1875, as both saw it as vital to maintaining their influence and empires in Asia. In 1882, ongoing civil disturbances in Egypt (see Urabi Revolt) prompted Britain to intervene, extending a hand to France. France's expansionist Prime Minister Jules Ferry was out of office, and the government was unwilling to send more than an intimidating fleet to the region. Britain established a protectorate, as France had a year earlier in Tunisia, and popular opinion in France later put this action down to duplicity. It was at this time that the two nations established co-ownership of Vanuatu. The Anglo-French Convention of 1882 was also signed to resolve territory disagreements in western Africa.

One brief but dangerous dispute occurred during the Fashoda Incident in 1898 when French troops tried to claim an area in the Southern Sudan, and a British force purporting to be acting in the interests of the Khedive of Egypt arrived. Under heavy pressure, the French withdrew and Britain took control over the area, As France recognized British control of Sudan. France received control of the small kingdom of Wadai, Which consolidated its holdings in northwest Africa. France had failed in its main goals. Fashoda was a diplomatic victory for the British because the French realized that in the long run, they needed friendship with Britain in case of a war between France and Germany. (Wikipedia).