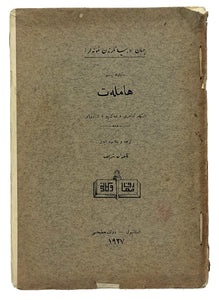 [THE FIRST TURKISH TRANSLATION OF 'HAMLET' AFTER THE REPUBLIC] Danimarka prensi Hamlet (Cihan Edebiyatindan Nümuneler). Translated by Kâmuran Serif.
$32500

$325.00
Tax included.
Shipping
calculated at checkout.
---
---
WILLIAM SHAKESPEARE, (1564-1616)., Maarif Vekâleti / Devlet Matbaasi, Istanbul, 1927.
Original wrappers. Slightly chipped on extremities of cover. Overall a good copy. Roy. 8vo. (24 x 17 cm). In Ottoman script (Old Turkish with Arabic letters). 71 p.

First Turkish translation ever of Shakespeare's works after the proclamation of the Republic in Turkey (1923); the rare second Turkish edition in the literature.

After 19 years from the first translation of Hamlet to Ottoman Turkish, the first Shakespeare publication in the Republican period was also a Hamlet: This book translated by Kâmuran Serif would also be the second and the last Shakespeare published, on the brink of the Alphabet Reform in 1928. The fact that the Hamlet translation of Kâmuran Şerif was published in the "State Printing House" can be considered as a symbolic indicator of the patronage that both Hamlet and all the works of language and literature together with Shakespeare's works will find in the Republic of Ataturk.

Özege 6775.; Türkçe Çeviriler Bibliyografyasi Dünya Edebiyatindan Çeviriler, 14509.; Only one copy in OCLC (Orient Institut) 1030919478 / 283805564.