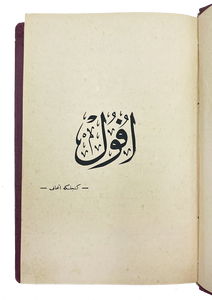 [THE FALL OF ADRIANOPLE / BALKAN WARS (1912-1913)] Ufûl
$37500

$375.00
Tax included.
Shipping
calculated at checkout.
---
---
RAIF NECDET [KESTELLI], (1881-1937), Resimli Kitab Matbaasi, Istanbul, [AH 1329] = 1913.
In contemporary burgundy cloth. Fooolscap 8vo. (18 x 12 cm). In Ottoman script (Old Turkish with Arabic letters). 261 p.
Very scarce firsthand account of the events during the Balkan Wars by Kestelli, the commander of the Ottoman Redif Battalion in Edirne (Adrianople) in 1910, and the memoirs of his six-month captivity among the Bulgarians in 1911.
After escaping from captivity, Kestelli traveled to Europe for a while and published his book in 1913, titled "Ufûl" which means "Sunset". Seeing the Balkan Wars as a kind of the beginning of the end, Kestelli made remarkable comparisons and criticisms between Bulgarians and Turks in the political, military, and social senses. Kestelli is also the author of the last Turkish dictionary written in Arabic letters and the first one of the Turkish Republic.
Özege 22390.; As of September, OCLC shows the institutional holdings in the US (26034217): Harvard University, Princeton University Library, Penn Libraries, LoC, CTSFW Library, University Libraries at Virginia Tech, University of Chicago Library, Concordia College Library, Dallas Theological Seminary, Northeast Lakeview College Library, University of California NRLF, UC Berkeley Libraries, UCLA, and Hawaii Pacific University.