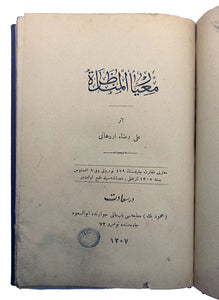 [THE EARLY OTTOMAN METHOD OF DEBATE] Miyârü'l-münâzara. [i.e. The criteria of debate].
$15000

$150.00
Tax included.
Shipping
calculated at checkout.
---
---
ALI RIZA ARDIHÂNÎ [sic. ARDAHÂNÎ], (1848-1906?).
Mahmud Bey Matbaasi., Ist., [AH 1307] = 1890.
Modern cloth bdg. Cr. 8vo. (20 x 14 cm). In Ottoman script. [2], 181 p. Ali Riza Ardahani, the son of Dervis Hamza Bey, a member of the Kayapasazades, one of the well-established families of Ardahan, was born in the Halilefendi District of Ardahan in 1848. He worked as a civil servant in cities or vilayats such as Ardahan, Erzurum, Yemen, and Hudeybe. Kayapasazâdes is a family that was settled in the region soon after the Ottoman conquest of Ardahan (1551) for the Turkification of the region. The Kayapasazâdeler, the most established family known after the Atabeks in the history of Ardahan, supported the Ottoman army under the chieftain of Lala Mustafa Pasha in 1578 and showed great benefits in the conquest of places up to Tbilisi. Kayapasazâdes educated many important statesmen in the Ottoman and Republic periods, served the state for centuries, and especially served Ardahan and its surroundings. The presence of the family in Ardahan continued until the first years of the Republic, and then they settled in metropolitan cities, especially Istanbul. Kayapasazâdes took the surname "Ardahan" with the Surname Law enacted in 1934. The author continued his work, which he started with "Basmalah", with a prosaic prayer (Dua) and naat (praise to the Prophet), and then "It is necessary to look for the most appropriate form of 'Ilm-i Münazara'" [i.e. The method of discussion]. Ardahanî praised the sultan of his time, writing that he was encouraged by the support he gave to the education by Sultan Abdulhamid. Mi'yârü'l-münâzara has drawn a framework on which evidence is acceptable and which are not appropriate, based on questions and answers of those discussed in a debate. Özege 13810.; TBTK 3803. First and Only Edition.