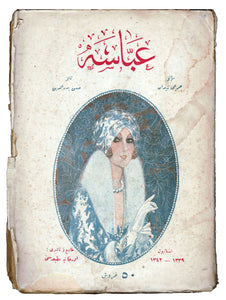 [THE CALIPH HARUN AL-RASHID'S SISTER] Abbâse. Translated by [Giritli] Hasan Bedreddin (1870-1926). [i.e. Abbasah ukth al-Rashd]
$35000

$350.00
Tax included.
Shipping
calculated at checkout.
---
---
JURJI [GEORGI] ZAYDAN, (1861-1914)., Orhaniye Matbaasi., Istanbul, [AH 1342] = 1923.
Original pictorial wrappers. Demy 8vo. (22 x 14 cm). In Ottoman script (Old Turkish with Arabic letters). 302 p. Slightly chipped on extremities, stains on cover. Otherwise a good copy.

First Ottoman Turkish edition of this Arabic historical novel that takes its subject from Arabic nights.

"Romance and intrigue provide the central plot of the novel that is woven into the broader picture of the fall of the Barmakis. Harun held his sister Abbasa in great affection and loved to spend his evenings in her company. But his favorite companion was Ja'far. It was quite unsuitable for a man from outside the family to be admitted to the company of a young woman, but Harun found a way to arrange things; he decided to marry them to each other in what the French call a "marriage blanc". As he explained to Ja'far "you see her only in my company, your body never approaches hers and you have no conjugal relations with her. You may thus share our evenings of pleasure without risk." Ja'far accepted and swore solemnly in front of witnesses never to visit his young wife, stay alone with her or even spend a minute under the same roof unless Harun was present.

But Jafar was handsome and Abbasa's beauty was second to none. The inevitable occurred. How and why no one is certain. There was a great political advantage for Ja'far to unite himself with the sister of the Caliph. But did his mother who was close to both her son and Abbasa prod them in that direction? Or was their deep love sufficient to consummate their marriage, as Zaidan seems to imagine? No one knows for sure and the novel does not speculate on what really happened. The only sure thing is that Abbasa became pregnant and gave birth to at least one child and perhaps two as related in the novel. And when Harun learned of the relationship, this was the beginning of the end for the Barmakis.

The close friendship between Harun and Ja'far spawned jealousies among the Caliph's entourage. Chief among them was the hostility that Al-Fadl ibn al-Rabi' had towards Ja'far. The two men detested each other and did everything they could to destroy each other. Last but not least Zubayda, Harun's favorite Hashemite wife also did not like Ja'far. He had been a tutor to al-Ma'mun, the son of a Persian slave girl, her son's rival. It was known that Harun admired Ma'mun's gifts and was thinking of promoting him over Al-Amin in the order of succession. There is every reason to believe that Zubayda exercised her considerable influence against Ja'far. She comes across as shrewd, skillful, and willful.

Zaidan never explicitly speculates to what extent al-Rashid's reaction was politically or emotionally motivated. The narrative and dialogue suggest a combination of those factors. Ja'far had been disloyal to Harun and had stained the family honor: his disobedience could not go unpunished. But Harun was shrewd and feared for his power and influence - to the extent that the Barmakis might usurp the Abbasid caliphate. Within this broad historical canvass, Zaidan's fast-paced narrative with its twists and turns is full of suspense. It covers only a few months of Harun al-Rashid's reign but one that fatefully changed the course of 'Abbasid history." (Source: The Zaidan Foundation).

Zaidan was a prolific Lebanese novelist, journalist, editor, and teacher, most noted for his creation of the magazine Al-Hilal, which he used to serialize his twenty-three historical novels. His primary goal, as a writer and intellectual during the Nahda, was to make the common Arabic population know their own history through the entertaining medium of the novel. He has enjoyed widespread popularity. He is also considered to have been one of the first thinkers to help formulate the theory of Arab nationalism.

OCLC: 780178860.; Özege 2.