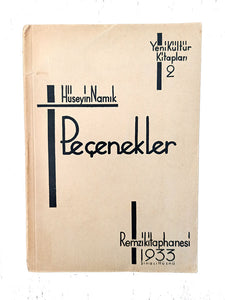 [CENTRAL ASIA] Peçenekler. [i.e. The book of Pechenegs]
$32500

$325.00
Tax included.
Shipping
calculated at checkout.
---
---
HÜSEYIN NAMIK [ORKUN], (1902-1956), Remzi Kitaphanesi - Sinasi Hüsnü, Ank., 1933.
Original wrappers. Demy 8vo. (21 x 14 cm). In Turkish. 76 p., xii b/w plates.

Scarce first edition of this first comprehensive study on the Pechenegs or Patzinaks, that were a semi-nomadic Turkic people from Central Asia speaking the Pecheneg language which belonged to the Oghuz branch of the Turkic linguistic family.

Orkun was a Turkish historian and linguist. He has published numerous works on the history of the Turkish/ Turkic peoples, Turanism and Turkism.

Eight copies are held by twenty-two WorldCat member libraries worldwide.