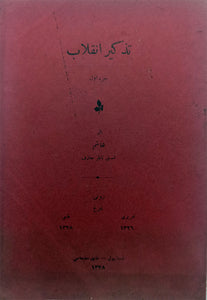 Tezkîr-i inkilâb. [i.e. Commemorate the Revolution].
$25000

$250.00
Tax included.
Shipping
calculated at checkout.
---
---
MUSTAFA HASIM BIN AHMED MUHTAR PASHA, (1852-1920).
Tanin Matbaasi., Ist., [AR 1328] = 1912.
Original wrappers. Cr. 8vo. (20 x 14 cm). In Ottoman script. 43 p. On the colophon, it's written 'Cüz-i evvel' [i.e. First juz], but all published. Mustafa Hasim Pasha, (1852-1920), was one of the Ottoman grand viziers of Georgian origin. He was the son of Sheik Al-Islam Ahmed Muhtar, (1807-1882). He served as the President of the Court of Justice and the Undersecretariat of the Ministry of Justice. This treatise contains a short record of the events that took place during the period of Hasim Pasha as grand vizier in the first chapter, the solution proposals for the events that took place after the 2nd Constitutional Monarchy are discussed in the second chapter titled 'talimâtlar' [i.e. instructions]. Roumi 1328 = Gregorian 1912. First and Only Edition. OCLC 976694858, 634235557 (Only three copies in OCLC).; TBTK 12960.; Özege 20937.