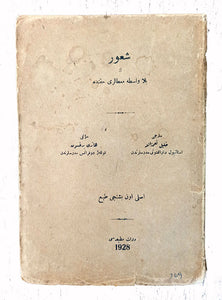 Suûrun bilâ-vâsita mu'talari hakkinda. [= On unconscious simulation in states of hypnosis (?)]. Translated by Halil Nimetullah [Öztürk], (1880-1957).
$27500

$275.00
Tax included.
Shipping
calculated at checkout.
---
---
HENRI-LOUIS BERGSON, (French philosopher), (1859-1941).
Maarif Vekâleti / Devlet Matbaasi, Ist., 1928. 
Paperback. Demy 8vo. (21 x 14 cm). In Ottoman script. [8], 248, [1] p. Henri-Louis Bergson was one of the most famous and influential French philosophers of the late 19th century-early 20th century. Although his international fame reached cult-like heights during his lifetime, his influence decreased notably after the Second World War. While such French thinkers as Merleau-Ponty, Sartre, and Lévinas explicitly acknowledged his influence on their thought, it is generally agreed that it was Gilles Deleuze's 1966 Bergsonism that marked the reawakening of interest in Bergson's work. Deleuze realized that Bergson's most enduring contribution to philosophical thinking is his concept of multiplicity. Bergson's concept of multiplicity attempts to unify in a consistent way two contradictory features: heterogeneity and continuity. Many philosophers today think that this concept of multiplicity, despite its difficulty, is revolutionary. It is revolutionary because it opens the way to a re-conception of community. Especially for his intuition concept, his ideas were adopted by conservative philosophers and intellectuals of Turkey and the last Ottoman Empire. Halil Nimetullah Öztürk was a Turkish author and translator. He graduated from the Istanbul University Faculty of Law. He studied philosophy in Paris. In 1910, he became a lecturer in philosophy and theology at Darülfunun (Istanbul University)and became a professor in 1928. After the Turkish Letter Revolution in 1928, he published many reviews and articles on the purification of the Turkish language from foreign words. He worked on old texts in the TDK [Türk Dil Kurumu = i.e. Turkish Language Society]. First Edition in the Turkish literature. Özege 19078.; TBTK; 5951.; Only one copy in Universiteitsbibliotheek Leiden according to OCLC: 777185082.; Not in Alper. 
Philosophy