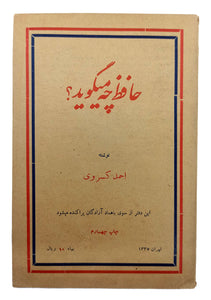 [SHIRÂZÎ CRITICS] Hâfiz chih mîgûyad? [i.e. What does Hafez say?].
$12000

$120.00
Tax included.
Shipping
calculated at checkout.
---
---
AHMAD KASRAVÎ, (1890-1946).
Iran Defter Az Sou-ye Bahmad Azâdgân Peragende Mishved., Tehran, [Sh.: 1335] = 1953.
Paperback. Demy 8vo. (22 x 14 cm). In Persian. 40 p. Fourth Edition. Seyyed Ahmad Kasravi Tabrizi, (1890-1946), was a leading Iranian linguist, nationalist, religious reformer, historian, and former Shia cleric. Born in Hokmabad (Hohmavar), Tabriz, Iran, Kasravi was an Iranian Azeri. Initially, Kasravi enrolled in a seminary. Later, he joined the Iranian Constitutional Revolution. He experienced a sort of conversion to Western learning when he learned that the comet of 1910 had been identified as a reappearance of Halley's comet. He abandoned his clerical training after this event and enrolled in the American Memorial School of Tabriz. Thenceforward he became, in Roy Mottahedeh's words, "a true anti-cleric." Kasravi was associated with the Democrat Party in Iran. Kasravi was a professor of law at the University of Tehran and also a lawyer in Tehran, Iran. He was the founder of a political-social movement whose goal was to build an Iranian secular identity. The movement was formed during the Pahlavi dynasty. Kasravi authored more than 70 books, mostly in the Persian language. The most important ones are "History of the Iranian Constitutional Revolution" and "Eighteen Years History of Azerbaijan", which are among the most important literary works of the Persian Constitutional Revolution. Basically, he believed and wrote that "all the present-day representations of Islam have deviated from the essence and the true concept of its foundation". He was particularly critical of Shia (since its formation since the sixth emam, Emam Jafar Sadegh) and Sufism, to which he ascribed many ills, from its supposed promotion of stagnation, "irrationality" or even being a tool of the Orientalists. His main target in that field was the famous E. G. Browne, appreciated by Iranian intellectuals of all tendencies, whom he accused to have favored Sufi poetry in his history of Persian literature, and thus trying to characterize the Iranian spirit with the errors he thinks belong to Sufis (immorality, irrationality, ...), further promoting idleness and passivity in order to keep Iran subjugated to foreign imperialists. His criticism of Hafez Shirazi followed the same path, considering him "a source of disgrace", saying that his "immorality" was due to the fact that the Mongols were the new rulers in the region, not respectful of Islamic law, thus letting some Sufis (like Hafez) "free to indulge in drinking wine, whereas previously they had to be cautious not to offend the Islamic sentiments of the rulers and the religious authorities.". Kasravi was also critical about the Bahá'í Faith and considered it as another continuation of the same deviation that started from Shia (penetration and influence of Old Iranian and Judaism beliefs about " a supposed to come savior" into Islam) to Shaykhism (followers of Shaykh Ahmad Ahsaei) then Babism (followers of Ali Mohammad, the Bab), then into the Bahá'í Faith. Abbas Amanat, professor of history at Yale University, believes that Kasravi's work regarding the Bahá'í called Bahaigari is "a short polemic of little historical value". He further explains "in his criticism of the Bab, he hardly takes into account the historical circumstances under which the movement first appeared and his pontifical judgments no doubt are influenced by his own vision of pakdini". It should be noted, however, that Amanat considers himself a follower of the Bahâ'î Faith. - Khwâja Shams-ud-Dîn Muḥammad Hâfeẓ-e Shîrâzî, (1315-1390), was a Persian poet, whose collected works are regarded by many Iranians as a pinnacle of Persian literature. His works are often found in the homes of people in the Persian-speaking world, who learn his poems by heart and still use them as proverbs and sayings. His life and poems have become the subjects of much analysis, commentary, and interpretation, influencing post-14th century Persian writing more than any other author. (Wikipedia).