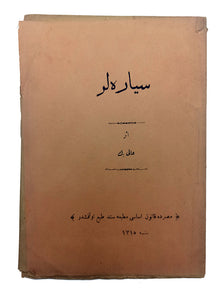 [SELF-PUBLISHED OTTOMAN POETRY - CAIRO] Seyyâreler. [i.e. The planets].
$15000

$150.00
Tax included.
Shipping
calculated at checkout.
---
---
DIREKTOR ALI BEY, (1844-1899).
Kanun-i Esasi Matbaasi., Cairo / Egypt, [AH 1315] = 1897.
Original wrappers. Uncut and untrimmed copy. Demy 8vo. (21 x 14 cm). In Ottoman script (Turkish with Arabic letters). 31 p. Ali Bey was a playwright originally. He learned French in private lessons and firstly he worked at the Babiâli (The Sublime Port) Translation Office as a clerk, then he became a member of the Health Council and the first secretary of the Directorate of Quarantine. He went to Eastern Anatolia, Iraq, and Japan as an inspector of public debts (1855-88). After his duty as the Governor of Trabzon (1890-93), he became the director of the Office of Public Debts (1890-93), which would last to the end of his life. It is for this reason that he was called Direktör Ali Bey. His first work was published in Diyojen (1869-72), the first humorous review, published by Teodor Kasap. Ali Bey, who was one of the regular writers of this review, wrote plays for the Gedik Pasa Theater, which was founded by the Armenian Güllü Agop and his friends, and wrote scripts adapted from French plays. He gave Turkish diction lessons to the Armenian actors and participated in theater activities. His plays were performed under the authorship 'A Person' to hide his official identity. He explained the meanings of words satirically in his dictionary Lehçetü'l Hakayik (Language of Realities) which he wrote in 1897 and was the first work of its field; the faults of the 19th century Ottoman Empire were also criticized in this dictionary. He wrote his travel memoirs titled 'Seyahât jurnâli' including his voyages from Istanbul to India. This book includes his humorous short stories printed in Cairo. Özege 17946.; TBTK 3399.; Only one printed copy in OCLC 1030931636 (Orient Institut of Istanbul). Scarce. First and Only Edition.