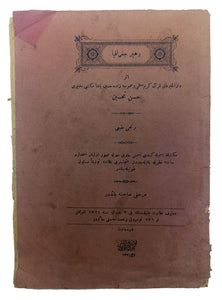 Rehber-i cografya. [i.e. Guide to geography].
$10500

$105.00
Tax included.
Shipping
calculated at checkout.
---
---
HASAN TAHSIN.
Artin Asaduryan Sirket-i Mürettibiye Matbaasi., Ist., [AH 1316] = 1898.
Paperback. Demy 8vo. (22 x 14 cm). In Ottoman script. 44 p. Hasan Tahsin's book called Rehber-i Cografya [i.e. Guide to geography] was prepared for use in primary schools. The author, who started the work with the benefits of learning geography, explained the geographical concepts briefly and clearly after giving brief information about the geographic terminology and its branches of geography. Physical and human geography information is predominant throughout the work. After telling about the coasts, mountains, lakes, rivers, cultural parts, important cities, and towns of the geographical regions he has dealt with, he conveyed the peoples according to their population, race, and religion. He explained the geographical concepts in detail with their names in Arabic, Persian and Ottoman languages, such as Muhit-i Daire [i.e. Horizon], directions, winds, Mihver-i Âlem [i.e. Axis of celestial sphere], Merkez-i arz, Kutblar [i.e. Polars], Hatt-i Istivâ [i.e. Equator], Devair-i Mütevâziye, Nisfünnehar ve Tûl Daireleri [i.e. Parallels and Meridians], Husuf ve Kusuf [i.e. Lunar and Solar Eclipses], etc. Description chapters after that including Ottoman land, Ottoman lands in Europe and shores, the Archipelago, Ottoman administration system, vilayats of Istanbul (Constantinople), Edirne (Adrianople), Selânik (Thessaloniki - Salonica), Yanya (Ioannina), Iskodra, Manastir, Kosovo, Girid - Kandiye (Crete), Bosnia and Herzegovina, East Rumelia, Bulgaria, Asya-yi Osmânî (Ottoman in Asia), Trablusgarp [Libya], Benghazi, Egypt, Bahr-i Sefid [i.e. the Mediterranean Sea], Afrika-yi Osmânî [i.e. Ottoman lands in Africa], Aleppo, Syria, Beirut, Basrah, Bagdad, Mosul, etc. Hasan Tahsin was an Ottoman / Turkish teacher in the Dar'u l-Hayr-i Ali and the director of the Amcazâde [ori Amucazâde] Hüseyin Pasha School. Özege 16576. First Edition.