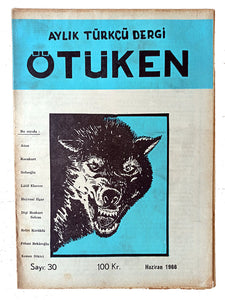 [PROPAGANDA ORGAN OF TURKISM & FASCISM / GRAY WOLF ON THE COVER] Ötüken: Aylik Türkçü dergi. No: 30. June, 1966. 100 Kr.
$6000

$60.00
Tax included.
Shipping
calculated at checkout.
---
---
Owner: [HÜSEYIN NIHAL] ATSIZ, (1905-1975).
Ötüken, Ist., 1966.
Original periodical. Pages are uncut and untrimmed. 4to. (29 x 20 cm). In Turkish. 20 p. Hüseyin Nihâl Atsiz was a prominent Turkish nationalist writer, novelist, poet, and philosopher. Nihâl Atsız identified as a racist, Pan-Turkist, and Turanist, and was claimed to be a sympathizer of the Nazi government, but he denied it. He was the author of over 30 books and numerous articles. He was in strong opposition to the government of Ismet Inönü, which he criticized for co-operating with the communists. He was accused of plotting to overthrow the government. He first studied at the Military School of Medicine but was expelled due to his ultra-nationalist views and activities. He then began to study at the Teachers College in Istanbul and the Istanbul University School of Literature and graduated from both in 1930. Following he became assistant to Professor Fuat Köprülü at Istanbul University. He challenged the Turkish History Thesis and following this incident he was dismissed from the University. After he worked in different high schools as a teacher and was a researcher at the Süleymaniye Library from 1949 until 1969. After his retirement in 1969, he kept publishing Ötüken. His last magazine Ötuken was published from 1964 to 1975. 
Fascism of the Turkish nationalism Propaganda Politic Policy Political history