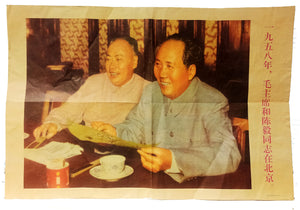 [POSTERS / MAO] [Mao Zedong and Chen Yi meet with foreign guests in Zhongnanhai in 1957]. Photographed by Hou Bo, (1924-2017)
$35000

$350.00
Tax included.
Shipping
calculated at checkout.
---
---
MAO TSETUNG [sic. MAO ZEDONG], (1893-1976), CHEN YI, (1901-1972)., China, 1959.
Original offset lithograph poster showing Mao and Chen Yi on the same table, when they meet with foreign guests in Zhongnanhai in 1957. This poster is printed in 1959 as it's hand-colored. 51x75 cm. Descriptive text on right in Chinese. Folded.

Chen Yi was a Chinese communist military commander and politician. He served as Mayor of Shanghai from 1949 to 1958 and as Foreign Minister of China from 1958 to 1972.

Hou Bo (1924-2017) was a Chinese photographer who, with her husband Xu Xiaobing, was among the best-known photographers of Mao Zedong. Born into a poor peasant family, Hou Bo joined the Communist Party at the age of fourteen and learned photography during the Second Sino-Japanese War in order to present a better image of the Party's work to the world. After 1949, she and Xu Xiaobing lived in the same compound as Mao and took both official photos, some used for posters and publicity, which became the most widely circulated photos of Mao, and some family photos, taken informally behind the scenes. Among her best-known photographs are "The Founding of the PRC" (1949), "Mao Zedong Swimming Across the Yangzi" (1955), "Chairman Mao at Work in an Airplane" (1959), and "Mao Zedong with Students from Latin America" (1959), which won First Prize in the National Photography Exhibition of 1959.