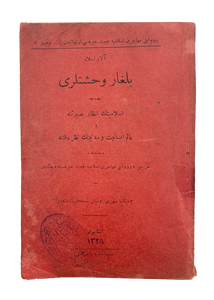 [POKRASTVANE / FIRST PROPAGANDA BOOK DURING THE BALKAN WARS (1912-1913)] Âlâm-i Islâm: Bulgar vahsetleri... [i.e., The worlds of Islam: The pains of Muslims, Bulgarian atrocities to the attention of Muslims, humanity, and civilizations]
$95000

$950.00
Tax included.
Shipping
calculated at checkout.
---
---
N.A., Matbaa-yi Hayriye ve Sürekâsi, Istanbul, [AH 1328] = 1912.
COMPLETE TITLE: [POKRASTVANE / FIRST PROPAGANDA BOOK DURING THE BALKAN WARS (1912-1913)] Âlâm-i Islâm: Bulgar vahsetleri. Islâmiyetin enzâr-i basiretine ve âlem-i insaniyyet ve medeniyyetin nazar-i dikkatine. [i.e., The worlds of Islam: The pains of Muslims, Bulgarian atrocities to the attention of Muslims, humanity, and civilizations].
Original red wrappers. Foolscap 8vo. (18 x 12 cm). In Ottoman script (Old Turkish with Arabic letters). 94, [1] p.
First and only edition of this extremely rare "first propaganda pamphlet prepared against the Bulgarian atrocities by the Society for the Muslim Immigrants from Roumelia in the first year of the Balkan Wars" (Yolcu). This early pamphlet was published to influence public opinion to require support from the Ottoman public and to call on Ottomans to contribute to its activities such as donating money etc. by the Society for the Muslim Immigrants from Roumelia.
While discussing the political and military conditions that led to the Balkan War in the introduction, the book touches on the events that took place from the Ottoman-Russian War of 1877-1878 until then. Blaming the Bulgarian society, army, and atrocities, the book also accuses the great powers of Europe of supporting the Bulgarians. A long section of the book is devoted to the forcibly converted Muslim Pomaks in the early Balkan Wars by Bulgarians (Pokrastvane). The concepts of the Crusade and Barbarism are frequently used in the language of the book.
During the Balkan Wars (1912-1913), civil organizations tried to compile evidence of atrocities and brought these kinds of information and images to the attention of national and international public via their publications. The main civil society of the immigrants in the Ottoman Empire and people who were left in the lost territories was Rumeli Muhacirîn-i Islâmiyye Cemiyet-i Hayriyyesi [i.e., The Society for the Muslim Immigrants from Roumelia]. The society protested Bulgaria after the military mobilization started and the first news of atrocities began to be heard and published in the Ottoman press. In its press release, the organization condemned the "barbarity and savagery", of the Bulgarian "gangster government" whom they held responsible for the atrocities. They also underlined the fact that European humanity and civilization should be ashamed of such acts in the 20th century and referred to the "Bulgarian monsters".
Özege 385.; TBTK 2944.; OCLC 780208140, 320038161, 253894347, 1030771499.