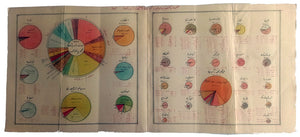 [PLATE / DEMOGRAPHY / ORIGINS OF THE PEOPLES IN EUROPE & USA] Hükûmât-i muhtelîfede mevcûd akvâmin kavmiyetini gösterir levha. [i.e. showing the origins of existing communities in various countries [in Europe & USA]].
$22500

$225.00
Tax included.
Shipping
calculated at checkout.
---
---
MEHMED ESREF (Binbasi [i.e. Major]), (1846-1912). 
Mekteb-i Harbiye Matbaasi [i.e. Military School Printing House]., Istanbul (Constantinople), [AH 1326] = 1910.
Original color litographed plate. 18x41 cm. In Ottoman script (Turkish with Arabic letters). Two-paged plate. A rare color lithographed plate from Mehmed Esref's 'Muhtasar Umûmî Atlas'. A very detailed plate showing Europe's and the US' demographic structure in 1922 with very attractive detailed statistical schemes. Besides the usual demographic scheme, there are 28 European states on the plate: Germany, France, Spain, Russia (Soviets), England, Italy, Poland, Romania, Holland, Norway, Estonia, Czechoslovakia, Austria, Switzerland, Lithuania, Yugoslavia, Portugal, The United States of America, Hungary, Sweden, Denmark, Latvia, Belgium, Greece, Finland, Avrupa-yi Türkî [i.e. Turkey in Europe], Albania. Mehmed Esref (1846-1912) was a Turkish / Ottoman military cartographer and educator in the Ottoman military school [Mekteb-i Harbiye] active in the first part of the 20th century, and he prepared and published many separate maps and atlases more besides this one.