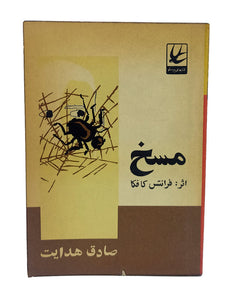 [PERSIAN 'METAMORPHOSIS' TRANSLATED BY SADIQ HEDAYAT] Maskh wa Girâkûs-i sikârcî. Tarquma-i Sadiq Hedayat, (1903-1951). Ba indimâm-i: Mihmân-i murdagân, Samsâr, Dar kanîsa-yi mâ. Targuma-i Hasan Qâ'imyân.
$10000

$100.00
Tax included.
Shipping
calculated at checkout.
---
---
FRANZ KAFKA, (1883-1924).
Ketabha-ye Perstav., Tehran, [Sh.: 1344] = 1965.
Paperback. Foolscap 8vo. (17 x 11,5 cm). In Persian. 200 p. Sadegh Hedayat [Sadiq - Sadigh Hidayet], (1903-1951), was an Iranian writer, translator, and intellectual. Best known for his novel The Blind Owl, he was one of the earliest Iranian writers to adopt literary modernism in their career. Hedayat subsequently devoted his whole life to studying Western literature and to learning and investigating Iranian history and folklore. The works of Rainer Maria Rilke, Edgar Allan Poe, Franz Kafka, Anton Chekhov, and Guy de Maupassant intrigued him the most. During his short literary life span, Hedayat published a substantial number of short stories and novelettes, two historical dramas, a play, a travelogue, and a collection of satirical parodies and sketches. His writings also include numerous literary criticisms, studies in Persian folklore, and many translations from Middle Persian and French. He is credited with having brought the Persian language and literature into the mainstream of international contemporary writing. There is no doubt that Hedayat was the most modern of all modern writers in Iran. Yet, for Hedayat, modernity was not just a question of scientific rationality or a pure imitation of European values. In his later years, feeling the socio-political problems of the time, Hedayat started attacking the two major causes of Iran's decimation, the monarchy, and the clergy, and through his stories, he tried to impute the deafness and blindness of the nation to the abuses of these two major powers. He felt alienated by everyone around him, especially by his peers, and his last published work, The Message of Kafka, bespeaks melancholy, desperation, and the sense of doom experienced by those subjected to discrimination and repression. OCLC: 777571775 (Leiden Bibliotheek). First Edition in 1950 [1329].