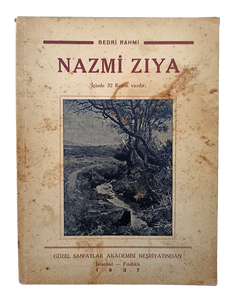 [PAINTER'S PAINTER BIOGRAPHY] Nazmi Ziya
$9000

$90.00
Tax included.
Shipping
calculated at checkout.
---
---
BEDRI RAHMI [EYUBOGLU], (Turkish painter and poet), (1911-1975).
Güzel San'atlar Akademisi Nesriyati, Istanbul, 1927.
Paperback. Cr. 8vo. (20 x 15 cm). In Turkish. 35 p., 32 b/w plates. Foxing on the cover. Otherwise a good copy.
Nazmi Ziya Güran, (1881-1937), was a Turkish Impressionist painter and art teacher. He was born in Istanbul. He did manage to obtain some private tutoring from Hoca Ali Riza then, following his father's death in 1902, he quietly enrolled at the Academy. He studied with the Italian Orientalist painter, Salvatore Valeri and the sculptor Osgan Efendi, but had some difficulty adapting to the school's conservative teaching methods and came into conflict with Osman Hamdi Bey, the Director. A meeting with the French painter Paul Signac, who visited Istanbul while sailing around the Mediterranean, may have influenced his desired style. The conflicts continued and, in 1907, when he submitted his final exam pictures, he found his graduation delayed by a year.
Bedri Rahmi Eyuboglu was a Turkish painter and poet. His first one-man show was in Bucarest at the Hasefer Gallery in 1935. The exhibition was organized by his future wife Ernestine. They were married in Istanbul in 1936. Bedri Rahmi was a very prolific artist; he painted frescoes at the "Lido restaurant" in Istanbul (1943), a large panel at the Ankara Opera House (1946).
First and Only Edition. OCLC 909450866.
Turkish painting History of art