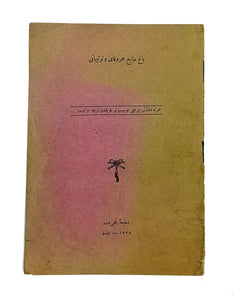 [OTTOMAN NAVAL FORCES / PAMPHLET FOR THE LIQUID FUEL] Yag-i mâyi' mahrûkâti ve tertîbâti. [i.e. Liquid oil fuel and its assembly]. Translated into Ottoman Turkish by Bahriye Nezâreti Çarhçi [sic. Çarkçi] Komisyonu.
$12500

$125.00
Tax included.
Shipping
calculated at checkout.
---
---
[OTTOMAN NAVAL FORCES COMMISSION OF ENGINES].
Matbaa-yi Bahriyye., Istanbul, [AH 1328] = 1912.
Paperback in original wrappers. Demy 8vo. (21 x 14 cm). In Ottoman script (Turkish with Arabic letters). 16 p. This pamphlet, mostly prepared in the form of questions and answers, describes the technical infrastructure required for the use of liquid oil fuel in warships. It was prepared for officers studying at the navy schools of the Imperial Ottoman in the early 20th century. On the cover, it's indicated to be translated by the Ottoman Naval Forces Commission of Engines, but, no information on which source to be used to translate it. It's printed after the Second Constitutional Regime in 1908, and Tripoli War in 1911, probably during the Balkan Wars, (1912-1913). Following the Young Turk Revolution in 1908, the Committee of Union and Progress which effectively took control of the country sought to develop a strong Ottoman naval force. The poor condition of the fleet became evident during the Ottoman Naval Parade of 1910, and the Ottoman Navy Foundation was established in order to purchase new ships through public donations. Those who made donations received different types of medals according to the size of their contributions. In 1910, the Ottoman Navy purchased two pre-dreadnought battleships from Germany: SMS Weissenburg and her sister ship SMS Kurfürst Friedrich Wilhelm. These ships were renamed Turgut Reis and Barbaros Hayreddin, respectively. The Italo-Turkish War of 1911-1912 and the Balkan Wars of 1912-1913 proved disastrous for the Ottoman Empire. In the former, the Italians occupied Ottoman Tripolitania (present-day Libya) and the Dodecanese Islands in the Aegean Sea and the Regia Marina defeated Ottoman light naval forces in the battles of Preveza, Beirut, and Kunfuda Bay. In the latter, a smaller Greek fleet successfully engaged with Ottoman battleships in the naval skirmishes of Elli and Lemnos. The better condition of the Greek fleet in the Aegean Sea during the Balkan Wars led to the liberation of all Ottoman-held Aegean islands other than those in the Italian-occupied Dodecanese. It also prevented Ottoman reinforcements and supplies to the land battles on the Balkan peninsula, where the Balkan League emerged victoriously. The only Ottoman naval successes during the Balkan Wars were the raiding actions of the light cruiser Hamidiye under the command of Rauf Orbay. For this reason, the Naval Ministry, on the one hand, tried to train a large number of sailor officers by printing technical booklets like this in order to close the gap. Faded on the cover, chipped on extremities and spine. Otherwise a good and rare copy. Not in Özege.; Only one copy in OCLC: 949520567 (Bogaziçi Uni. Library).