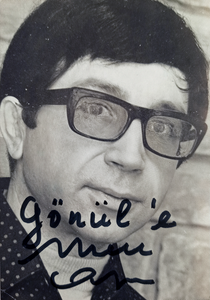 Original print photograph signed and inscribed 'Marc Aryan'
$4500

$45.00
Tax included.
Shipping
calculated at checkout.
---
---
MARC ARYAN [HENRI MARKARIAN], (French-Belgian singer, songwriter, and record producer of Armenian descent), (1926-1985).
Markal - Distribution Gramophone S.A., Istanbul, [ca. 1960s].
Original b/w portrait print photograph signed and inscribed by Marc Aryan as 'Gönül'e'. 15x10,5 cm.
Henri Markarian, better known as Marc Aryan, was a French-Belgian singer, songwriter, and record producer of Armenian descent born as a French citizen, who also acquired Belgian citizenship after a long residency in the country. Marc Aryan was born to Lebanese Armenian parents who came from Malatya, Turkey. Henri Markarian initially released materials under the personal label Markal. He then changed the name of the label to Malatya where his parents came from. He recorded several songs for an album released in Brussels. With initial success, Henri Markarian decided to adopt the stage name Marc Aryan (derived from the pronunciation of his Armenian family name Markarian). After the successful years 1964 and 1965 locally, the years 1966 and 1969 proved to be his most prosperous years internationally. Marc Aryan enjoyed great popularity in the Middle East, particularly in Lebanon and Syria, where he also sang some songs in the Armenian language and in Eastern Europe and Latin America. He had some commercial success in Quebec, Canada's predominantly francophone province. Marc Aryan visited Turkey where his parents originated from. His success was huge after his release of the oriental-themed "Istanbul", one of his best-known hits that became an instant classic in Turkey. He also released a number of re-arrangements of his biggest hits in the Turkish language, following the example of famous European artists who had done the same as Salvatore Adamo, Johnny Hallyday, Sacha Distel, Enrico Macias, and Peppino di Capri. Turkish language versions in his album Istanbul'da include 9 songs including "Yalancisin", "Dünya Dönüyor", "Kalbin Yok Mu?" and others. The Turkish lyrics were mostly written by Fecri Ebcioglu.