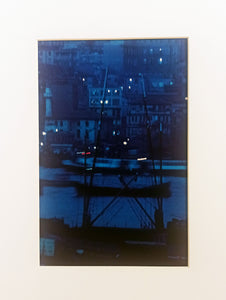 [ORIGINAL PRINT - PHOTOGRAPH] 196/400
$80000

$800.00
Tax included.
Shipping
calculated at checkout.
---
---
ARA GÜLER, (Armenian - Turkish photographer), (1928-2018)., Pamukbank, Istanbul, 1997.
Original color photograph on positive paper. In original cover with its cartoon frame. Size: (all 50x60 cm - photograph 30x20 cm). Positive paper is a light-sensitive paper on which the image taken on the negative film was created in accordance with the original image. A short biography on verso. Signed by the photographer. 400 copies were printed. All copies were numbered. This is no. 196.

Ara Güler was an Armenian-Turkish photojournalist, nicknamed "the Eye of Istanbul" or "the Photographer of Istanbul". He was "one of Turkey's few internationally known photographers". In 1958, the American magazine company Time-Life opened a branch in Turkey, and Güler became its first correspondent for the Near East. Soon he received commissions from Paris Match, Stern, and The Sunday Times in London. After completing his military service in 1961, Güler was employed by the Turkish magazine Hayat as head of its photographic department. About this time, he met Henri Cartier-Bresson and Marc Riboud, who recruited him for the Magnum Photos agency, which he joined (though later withdrew from). He was presented in the British 1961 Photography Yearbook. Also in that year, he was accepted as the only Turkish member of the American Society of Magazine Photographers (ASMP) (today called the American Society of Media Photographers). The Swiss magazine Camera honored him with a special issue. In the 1960s, Güler's photographs were used to illustrate books by notable authors and were displayed at various exhibitions throughout the world. His works were exhibited in 1968 in 10 Masters of Color Photography at the New York Museum of Modern Art and at Photokina Fair in Cologne, Germany. His book Türkei was published in Germany in 1970. His photos on art and art history were used in Time, Life, Horizon, and Newsweek and publications of Skira of Switzerland. Güler traveled on assignment to Iran, Kazakhstan, Afghanistan, Pakistan, India, Kenya, New Guinea, Borneo, as well as all parts of Turkey. In the 1970s he photographed politicians and artists such as Indira Gandhi, Maria Callas, John Berger, Bertrand Russell, Willy Brandt, Alfred Hitchcock, Ansel Adams, Imogen Cunningham, Marc Chagall, Salvador Dalí, and Pablo Picasso. Some critics consider his most renowned photographs to be his melancholic black and white pictures taken mostly with a Leica camera in Istanbul, mainly in the 1950s and 1960s. He has exhibited frequently since then, and also had his work published in special supplements. International publishers have featured his photographs.