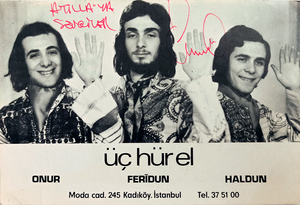 Original photographic advertisement of 'Üç Hürel' signed and inscribed 'Feridun'
$10000

$100.00
Tax included.
Shipping
calculated at checkout.
---
---
3 HÜREL - FERIDUN HÜREL, (One of member and founders of Turkish Rock Band 3 Hürel), (1951-).
Üç Hürel, Moda Cd. 245 Kadiköy - Istanbul - Tel. 375100., Istanbul, [ca. 1970s].
Original b/w advertisement of Turkish Rock Band Üç Hürel, signed and inscribed by Feridun Hürel as 'Atilla'ya sevgiler'. Oblong: 11x16,5 cm. In Turkish. Photograph on the advertisement shows three members and brothers of Üç Hürel. Üç Hürel was a Turkish rock band, formed in 1970 by brothers Onur, Haldun and Feridun Hürel. Considered as among Turkey's most popular Anatolian rock bands, the band performed folk-driven pop and rock music and occasionally also paraphrased classic folk songs with considerable ingenuity. Their lyrics generally featured themes such as peace and freedom. Hürel brothers were born in Trabzon and later moved to Istanbul due to family business. In 1966, the brothers formed their first band, Yankılar, which was later renamed to İstanbul Dörtlüsü. The band performed in small music halls and tried to synthesize Turkish music and traditional rock formats. After forming a number of other bands, including Trio Istanbul, Oguzlar, and Biraderler, Feridun became a member of the Selcuk Alagöz Orchestra. Haldun and Onur later joined him to gain experience and earn money for new equipment. In 1970, they left the orchestra to form 3 Hur-El. Following the release of their debut single in 1970, "Ve Ölum/Seytan Bunun Neresinde," the band released two LPs and more than ten singles in six years. In 1977, Haldun and Feridun left the band for mandatory military service. Coping with the loss of their mother to a traffic accident, the brothers quit music. Feridun moved to England but returned without any significant accomplishments, subsequently returning and specializing in advertising. Onur took a job as an instructor and Haldun started a ceramics and textiles business. 3 Hür-El reunited in 1996, releasing two records in 1996 and 1999, respectively. The band's 1970 song, "Ve Ölüm", was featured in the 2013 Serge Bozon film, Tip Top. (Source: Wikipedia). 
Autograph Photo Signed Turkish rock Psychedelic Music