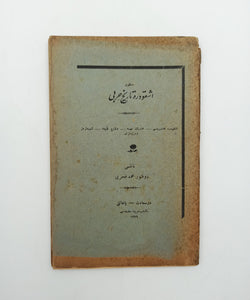 [MONTENEGRO VS OTTOMAN] Manzûm Iskodra târîh-i harbi. [i.e. War history of Shkodra in verse]
$75000

$750.00
Tax included.
Shipping
calculated at checkout.
---
---
MEHMED FAHRI PASHA, (1860-1932), Mekteb-i Harbiye Matbaasi, Istanbul, [AH 1329] = 1913.
Original wrappers. Foolscap 8vo. (18 x 12 cm). In Ottoman script (Old Turkish with Arabic letters). 142, [4] p. Some pages are untrimmed and unopened. Foxing on extremities. Overall a good copy.

First and only edition of this uncommon first-hand account in verse of the Siege of Scutari, also referred to as the Siege of Shkodër (Shkodra), took place from 28 October 1912 to 23 April 1913 when the army of the Kingdom of Montenegro defeated the forces of the Ottoman Empire and invaded Shkodër, written by Mehmed Fahri Pasha, who served in Serbia as the chief physician of Shkodra by participating in the Balkan Wars (1912-1913).

On 8 October 1912, Turkish General Hasan Riza Pasha announced that Montenegro had declared war on the Ottoman Empire in order to erase 600 years of oppression by the "Turkish foot", as the enemy claimed, and that its troops were crossing the border between Montenegro and Albania. Two hours after the news, the Montenegrin troops, as expected, approached Scutari. As much as 70% of the Turkish army in the interior of the Balkans was composed of Muslim Albanians conscripted during the freedom struggle from the Ottoman Empire.

Özege 12224.
-- Montenegro Balkans The Ottoman Empire War Military history Balkan Wars (1912-1913)