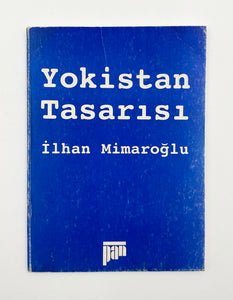 [MODERN UTOPIA BY TURKISH AMERICAN ELECTRONIC MUSIC COMPOSER] Yokistan tasarisi. [i.e. Neverland Project]
$22500

$225.00
Tax included.
Shipping
calculated at checkout.
---
---
ILHAN [KEMALEDDIN] MIMAROGLU, (1926-2012), Pan Yayincilik, Istanbul, 1997.
Original wrappers. 24mo. (12,5 x 9 cm). In Turkish. 64 p.

First and only edition of this scarce modern utopian project of a Turkish - American electronic music composer Mimaroglu.

Yokistan [i.e. Neverland] is an example of contemplating what the "best" life could be like in a place that doesn't exist. The economic system of the country is communist capitalism. Everyone is paid equal wages. There is no religion, no property, no unemployment, and no retirement. There is no family. There is no marriage in the text as a precondition for the absence of a family. The unit of society is the individual. The people are given their identities individually. The names of the parents are not on the identity card but may be included in the population register as useful information for authentication when necessary. There is birth control in this utopia. Giving birth without permission is considered a felony.

Mimaroglu was born in Istanbul, after his graduation, he went to study in New York supported by a Rockefeller Scholarship. He studied musicology at Columbia University under Paul Henry Lang and composition under Douglas Moore.

During the 1960s he studied at the Columbia-Princeton Electronic Center under Vladimir Ussachevsky and on occasion worked with Edgard Varèse and Stefan Wolpe. His notable students included Ingram Marshall.

He worked as a producer for Atlantic Records, where he created his own record label, Finnadar Records, in 1971. In the same year, he collaborated with trumpeter Freddie Hubbard on an anti-war statement, Sing Me a Song of Songmy. He also was the producer for Charles Mingus' Changes One and Changes Two and contributed to the soundtrack of Federico Fellini's Fellini Satyricon. He was awarded the Guggenheim Fellowship in music composition in 1971.

OCLC 40492024: Three copies worldwide, one is located in an American library (NY).