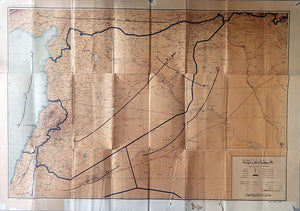 [MAP OF SYRIA] Harita al-Suriyah. Calligraphed by Kamel Al-Baba, (1905-1991).
$65000

$650.00
Tax included.
Shipping
calculated at checkout.
---
---
Original chromo-lithograph map in brown tones. On a special paper with an ongoing blindstamped "Regestre Robur" during the borders. Folded. 70x100 cm. In Arabic. Scale: 1 /1.000.000. Chipped on margins, split on folded traces. Slight discoloration and one stain on lower margin. Otherwise a good copy. An attractive and detailed map of Syria shows the capital (as Aleppo n that map), other cities like Damascus, Raqqa, Homs, Latakia, Ayn al-Arab, Idlib, Hama, Deir Ez-Zor, Jarabulus, et alli. And it shows Turkey on the north (as Turkey containing Hatay and Alexandrette), The Mediterranean shores of the land as well as Lebanon and Palestine (and Jerusalem) on the west, Sharq al-Urdun (Jordan) and Iraq on the south and east. It's very detailed on showing the roads spread throughout the land like railways and ancient roads from the Roman period. Additionally this roads can be followed to the other Arabic countries and regions on the map. This map was calligraphed by Kamel Al-Baba, (1905-1991), who was a Lebanese contemporary / modern calligrapher. He is the son of famous calligrapher Mokhtar Al-Baba. Cannot be found in WorldCat.; Not in Library of Congress Map Collection. Very scarce.