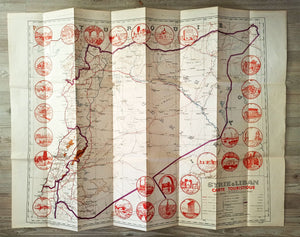 [MAP of SYRIA AND LEBANON] Syrie & Liban: Carte Touristique.
$20000

$200.00
Tax included.
Shipping
calculated at checkout.
---
---
LE SERVICE GEOGRAPHIQUE DES F. F. L. L. (Pressed, published and drawn by)., Service géographique des Forces Française Libres du Levant [i.e. Geographical Service of the Free French Forces of the Levant], [Washington D.C.], 1942.
Scarce color lithographed tourist map of Syria and Lebanon, showing international boundaries, transportation, archaeological, historical, and military ruins, water features, distances between places and populated places. Relief is shown by hachures, bathymetric tints, and spot heights. Includes 28 attractive drawings in red of tourist sites in Syria and Lebanon: Damas, Palmyre, Afqa, Hama, Homs, Meyrouba, Saida, Beit ed-Dins, Djebail, Led Cedres, Krak des Chevaliers, Massiaf, Antioche, Deir Smane, El Goilla, Aleppo, etc. "Relief is shown by contours and spot heights. Includes 28 drawings of tourist sites in Syria and Lebanon, listing the city. "7 -49". On lower right margin.'". Free French Forces was the government-in-exile led by Charles de Gaulle during the Second World War, and its military forces, that continued to fight against the Axis powers as an Allied nation, following the Fall of France. Set up in London in June 1940, it organized and supported the Resistance in Occupied France, and established a foothold within several French colonies in Africa.

Original color lithograph map of Syria and Lebanon. 57x72 cm., on sheet 63x84 cm. In French. Scale: 1:1.000.000. Edition of May 1942.