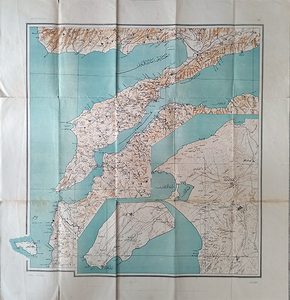 [MAP of HELLESPONT & GALLIPOLI] [Map of Hellespont, Gallipoli Peninsula, Suvla Bay, Seddülbahir and Tenedos].
$62500

$625.00
Tax included.
Shipping
calculated at checkout.
---
---
[MILITARY PRINTINGHOUSE].
Matbaa-yi Askeriye., Ist., [AH 1338] = 1922 AD.
Original color map. 65,5x63 cm. In Ottoman script. This rare and decorative Gallipoli map including Hellespont, Gallipoli Peninsula, Suvla Bay, Seddülbahir, and Tenedos, the places of Gallipoli Aar in 1915 (Dardanelles Campaign) during World War 1, separated two map views. Seddulbahir and Suvla Bay at north and Straight, Peninsula, and its shores with Tenedos (now Bozcaada) at the southwest of the map. It's a very detailed and rare map printed with the series of "History of the Dardanelles Campaign" after the seven years of war. The Gallipoli campaign, also known as the Dardanelles campaign, the Battle of Gallipoli or the Battle of Çanakkale (Turkish: Çanakkale Savasi, or, Muharebâti), was a military campaign in the First World War that took place on the Gallipoli peninsula (Gelibolu in modern Turkey), from 17 February 1915 to 9 January 1916. The Entente powers, Britain (with Anzacs), France, and Russia, sought to weaken the Ottoman Empire, one of the Central Powers, by taking control of the Turkish straits.