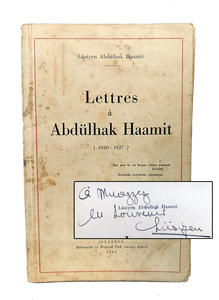 Lettres a Abdülhak Haamit, 1920-1927. [SIGNED FIRST EDITION]
$32500

$325.00
Tax included.
Shipping
calculated at checkout.
---
---
LUSIYEN [LUCIENNE] ABDÜLHAK HAAMIT [HAMIT - HAMID], (The fourth wife of Abdülhak Hamid Tarhan).
Matbaacilik ve Nesriyat Türk Anonim Sirketi, Ist., 1932.
Paperback. Foolscap 8vo. (18 x 12 cm). In French. 192 p. Abdülhak Hâmid Tarhan, (1852-1937), was an early 20th-century Turkish playwright and poet. He was one of the leading lights of the Turkish Romantic period. He is known in Turkish literature as "Sair-i Azam" (The Grand Poet) and "Dahi-i Azam" (The Grand Genius). In 1908, he became a member of the Turkish Senate, He lost his wife Nelly in 1911, and made later his third marriage with the Belgian Lucienne in 1912. It's the fourth marriage of him. Hamid, who was appointed as a member of the Assembly and became the president of the assembly after a while, went to Vienna with his wife at the end of the First World War. Here he had troublesome, hard, and moneyless days. Turkey, which led to a wide echo "Sâir-i Azâm" [i.e. The Great Poet] the poem was published in the newspaper Tanin. In 1920, he left his wife Lüsyen Hanim amicably. He continued to correspond with Mrs. Lüsyen, who married an Italian Count. This book includes all correspondences before and after divorce them. Signed and inscribed by Lucienne as "A Muazzez, ou souvenir". 1000 copies were printed. Limited and the First French Edition.