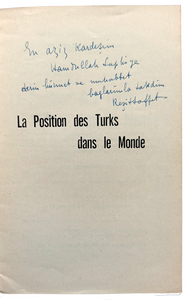 La position des Turks dans le monde
$22500

$225.00
Tax included.
Shipping
calculated at checkout.
---
---
RECHID SAFFET ATABINEN, (Turkish politician, the founder of TURING), (1884-1965).
Editions de 'Amis d'Istanboul', Istanbul, 1948.
Paperback. Cr. 8vo. (19 x 12,5 cm). In French. 23 p. Tear on the upside of cover. Resit Saffet Atabinen is a qualified and real Turkish intellectual who was born in the last years of the Ottoman Empire, who experienced a lot of problems in the country and who was near Mustafa Kemal Atatürk during and after the National Struggle period. He was a diplomat who knew the West very well, he was one of the important historians of his period and he was a deputy who was very close to Atatürk and a real lover of Turkey. (Resit Saffet Atabinen (1884-1965) and his Contributions to Turkish Tourism, Altintas - Kurnaz Sahin). Signed and inscribed by the author to Hamdullah Subhi Tanriöver as 'Sn. Aziz kardesim Hamdullah Suphi'ye derin hürmet ve muhabbet baglarimla takdim'. Limited Edition: 1000 copies were printed. First and Only Edition.