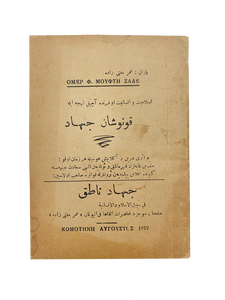 [KOMOTINI IMPRINT / WESTERN THRACE QUESTION / DISPLACED PERSONS] Islâmiyet ve insâniyet ugrunda açik lehce ile konusan cihad. [i.e., Jihad speaking openly for the sake of Islam and humanity]
$47500

$475.00
Tax included.
Shipping
calculated at checkout.
---
---
ÖMER F. MUFTIZÂDE, Privately Published, Komotini (Gümülcine), 1957.
Original wrappers. Foolscap 8vo. (17 x 12 cm). Text in Ottoman script (Old Turkish with Arabic letters), with a bilingual title in Greek, Arabic, and Turkish on the cover. 74 p.
First and only edition of this rare booklet on "the Islamic jihad" written by Muslim local cleric Müftizâde of Komotini, for the rights of Muslim Turks who were deported and lost their citizenship due to Article 19 of the Greek Citizenship Law in 1955.
The ethnic Turkish minority of Thrace has resided in the region since at least the fourteenth century, and they were Greek citizens. In 1923, under the Treaty of Lausanne, the Turkish minority of Thrace was granted a wide array of rights to ensure the protection of their religion, language, culture, and equality before the law. In addition, as Greek citizens, ethnic Turks also enjoyed the protection of Greek law and the European Convention on Human Rights. In the early 1950s, during a period of rapprochement between Greece and Turkey, the Greek government itself ordered the use of "Turk" and "Turkish" to refer to the minority, rather than "Muslim."
Several discriminatory measures have been enacted to force ethnic Turks to migrate to Turkey or to disrupt community life and weaken its cultural basis. The most egregious example was Article 19 of the Citizenship Law, which, until it was abolished in 1998, allowed the state to revoke the citizenship of non-ethnic Greeks unilaterally and arbitrarily. Between 1955 and 1998, approximately 60,000 lost their citizenship under the article. As a result of Article 19 and other discriminatory measures, the ethnic Turkish minority today numbers approximately 80-120,000.
In such a period, Muslim cleric Müftizâde wrote this book of "Jihad" in the Islamic sense, after the Turks were deported and lost their citizenship rights.
Çoban II 184.; OCLC locates three copies (76954643): Princeton University Library, UCLA (x2).