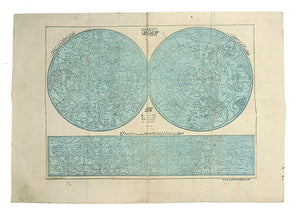 [INFLUENCES BY SIR FRANCIS BAILY IN AN OTTOMAN MAP OF THE SKY] Harita-yi semâ: Kevâkib, Tasnîf-i Kürre-i Cenûbî, Tasnîf-i Kürre-i Simâlî, Mintika-yi hareye mahsûs burûc. [i.e. Map of the sky: Stars, planets, South Pole, North Pole, and Zodiacs].
$42500

$425.00
Tax included.
Shipping
calculated at checkout.
---
---
[ANONYM].
549 Numerolu Matbaa [i.e. 549 No. Press]., [c. 1912], Dersaadet (Constantinople).
A very attractive chromo-lithograph map on paper. Oblong: 26,5x37,5 cm. In Ottoman script (Old Turkish with Arabic letters). Light foxing and fading on margins and printed area. A very detailed and fine double hemisphere map of the northern and southern skies, showing the various constellations, together with a third map showing the zodiacs on one paper. On the bottom margin, it's written 'Printed in the 549 Numbered Press', and 'Dersaadet...'. This map seems to be influenced (or, a direct translation) from the map of the sky of Sir Francis Baily, (1774-1844), who was one of the leading English Astronomers of the first part of the 19th Century. He is most famous for his observations of "Baily's beads" during a total eclipse of the Sun. Baily was also a major figure in the early history of the Royal Astronomical Society, as one of the founders and as the president four times. After a tour in the unsettled parts of North America in 1796-1797, his journal of which was edited by Augustus de Morgan in 1856, he entered the London Stock Exchange in 1799. The successive publication of Tables for the Purchasing and Renewing of Leases (1802), of The Doctrine of Interest and Annuities (1808), and The Doctrine of Life-Annuities and Assurances (1810), earned him a high reputation as a writer on life-contingencies; he amassed a fortune through diligence and integrity and retired from business in 1825, to devote himself wholly to astronomy. He had already, in 1820, taking a leading part in the foundation of the Royal Astronomical Society. In 1827, the Society awarded him its Gold Medal for preparation of the Astronomical Society's Catalogue of 2881 stars. He was instrumental in the reform of the Nautical Almanac in 1829. In 1837, he recommended to the British Association and later worked extensively on the reduction of Joseph de Lalande's and Nicolas de Lacaille's catalogues containing about 57,000 stars. He also supervised the compilation of the British Association's Catalogue of 8377 stars (published 1845) and revised the catalogues of Tobias Mayer, Ptolemy, Ulugh Beg, Tycho Brahe, Edmund Halley and Hevelius. His notice of Baily's Beads, during an annular eclipse of the sun on May 15 1836, at Inch Bonney in Roxburghshire, started the modern series of eclipse-expeditions. Very rare.