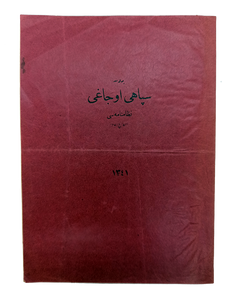 [HORSEBREEDING / RIDING / THE REGULATIONS OF JOCKEY CLUB OF BURSA] Bursa Sipahi Ocagi nizamnâmesi 1341.
$32500

$325.00
Tax included.
Shipping
calculated at checkout.
---
---
[BURSA SIPAHI OCAGI].
Bursa Sipahi Ocagi., Bursa, [AH 1341] = 1925 AD.
Paperback. Cr. 8vo. (20 x 14 cm). In Ottoman script. 4 p. Today's organized horse races as today were conducted in Izmir on 23 September 1856 for the first time. In the leadership of Evliyazade Refik Bey and the term's Consul General of England Mr. Patterson, Smyrna Races Club was founded. Izmir races were organized annually on Easter days. S.R.C. races were in their golden ages at the beginning of the 20th century and this ended with the start of 1st World War. Ottoman Jockey Club: The opinions of organizing horse races and breeding by means of jockey club in Turkey was tried to be accomplished but there is no clear knowledge on the actions of this club. According to the directory published in 1909, Grand Vizier Sait Halim Pasha was the president of the Ottoman Jockey Club. Refik Evliyazade started working for regular races to be organized in Istanbul when S.R.C races came to an end with the First World War. As a result of the support by the most powerful person of the era, Enver Pasha, Guild of Cavalryman Horse Riding Club, and Society of Improving Horse Breed were founded in 1913. Choosing Veliefendi as a racetrack coincides with the same era. Bursa Sipahi Ocagi was one of the earliest jockey and horse breeding and racing clubs in Ottoman / Turkish history. This rare booklet includes the regulations of the Bursa Sipahi Ocagi prepared in the Republican period. AH 1341 = AD 1925. Not in Özege.; Not in OCLC. Extremely rare.