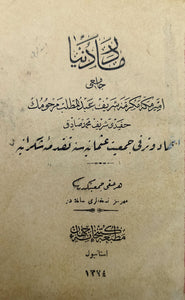 [HEJAZ TOPOGRAPHY / TRAVEL ACCOUNT OF ARABIA] Mâder-i Duniâ: Ittihad ve Terakki Cemiyet-i Osmaniyesine takaddüme-i sükraniyye. [i.e. Mother of the Earth].
$2,25000

$2,250.00
Tax included.
Shipping
calculated at checkout.
---
---
MUHAMMAD SADIQ SHERIF [BEY], (1832-1902)., Cihan Kütübhanesi Matbaasi., Istanbul, [R: 1324] = 1906.
Original wrappers. Foolscap 8vo. (17 x 12 cm). In Ottoman script (Old Turkish with Arabic letters). 152 p. Roumi: 1324 = Gregorian: 1906. Taken from a volume including multiple books. Spine is restored. A very good copy.
First and only edition of this early and extensively rare book including a first-hand account of the topography and descriptions of Hejaz, Mecca, and other parts of the Arabian Peninsula such as Taif and Yemen by Sadiq Sherif, who was the first person to take photographs of Mecca, Medina, and the Hajj in 1880 and 1881 as well.
Sadiq Sherif was the grandson of Serif Abdulmuttalib, the Emîr of Mecca. This book written by Sherif was dedicated to 'the Progress and Union Society' [i.e. Ittihad ve Terakki Cemiyeti]. The book describes the way of administration and territorial division of Hejaz after giving some information about its geography, borders, tribes and natives, mountains, rivers, crops and products, and animals of this Ottoman 'vilâyat' [i.e. province]. Sherif gives detailed information on how and when the Ottoman Empire ruled Hejaz, the location of Mecca city, its borders, physical and social geography, crops in Mecca and around, its flora, fauna, demographic structure, 'nahiyes', Kâba's construction, and its history, sacred places around, Masjid-i Haram and other masjids, cemeteries, mountains, gifts by Ottoman caliphs to Kaba, 'Taif' area, people who were 'Emîr' of Mecca from the period of Mohammad, Wahhabism and its birth, etc. At the last, Sherif gives place to his personal letter (layihâ) including 49 articles. The letter was about the reforms that Hejaz needs and it was sent to the Ottoman 'sadâret' [i.e. prime ministry]. (Source: History of geographical literature during the Ottoman Empire, Edited by Ihsanoglu).
Muhammad Sadiq Sherif Bey was the first person to take photographs of Mecca, Medina, and the Hajj in 1880 and 1881. Sadiq Bey trained as a military engineer after completing his studies in Cairo and at the École Polytechnique in Paris. It is not known when, or from whom, Sadiq Bey learned to take photographs but it was most probably through one of the resident photographers in Egypt. In 1861, prompted by the need to carry out more extensive military land surveys of the area between Wajh and Medina, Sadiq Bey made his first journey to Arabia. He took a camera along with his surveying equipment and took his very first photographs of Medina. In a series of articles published in the Egyptian Military Gazette in 1877, he refers to his early photography at Medina describing the use of a 'photographia'. Sadly, however, none of the photographs from this first journey has survived. In 1880 he was appointed as the treasurer of the Mahmal, the ornate cloth to cover the Ka'ba brought each year on a special litter to Mecca. He accompanied the Mahmal to Medina and Mecca from September 1880 until January 1881. Again equipped with his camera, he succeeded in producing the series of photographs that are now considered some of the earliest known photographs of the region, those of the Ka'ba, taken under great secrecy. Sadiq Bey published various accounts of his travels in Arabia in military journals, through the Emiry Grand Press in Cairo, but the 1880/81 series of photographs appear to have been issued separately for wider distribution through the Société Khédiviale de Géographie. The society's secretary, Dr. Frederic Bonola, advertised sets of photographs for sale. In January and April 1880 Sadiq Bey gave a talk and report to the society on his earlier 1861 expedition, and on 20 May 1881 he presented a report on his recent journey to Mecca; detailed accounts were published in the society's bulletins, numbers 9/10 and 12. (Source: Christie's).
Özege 11888.; Karatay, TM II: 695.; MKAHTBK, II: 991.; OCLC 248374684 / 4082352.